Entertainment
"E dey rise oo" –In a new video, Nons Miraj, aka "Ada Jesus," gets "free" with James Brown and tries to touch his "thing."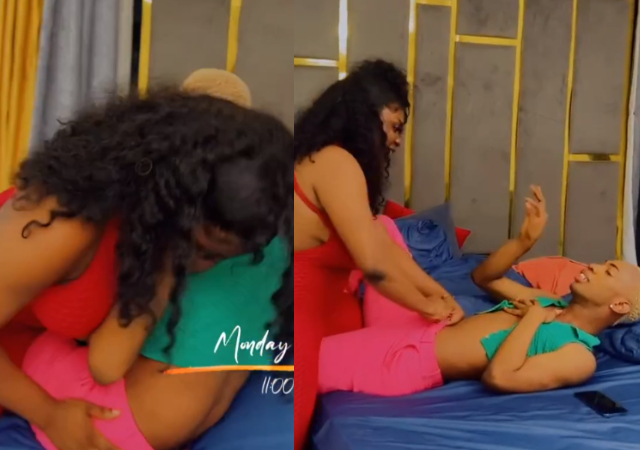 In a recent video, the controversial crossdresser James Brown Obialor and the skit creator Chinonso Ukah, also known as Ada Jesus or Nons Miraj, are shown having an adult play.
Ada Jesus could be seen trying to unbutton James Brown's pants while sitting on top of him in the video she released. James Brown, who was on the bed, was forced to scream and sob in protest against sexual harassment and assault.
Ada Jesus, who appeared to be getting entrance, yelled during their amusing altercation when she saw the crossdresser with an erection.
"E DEY RISE OOO," SHE SCREAMED IN PIDGIN ENGLISH.
James Brown, on the other hand, was able to stand up and sought to exact revenge on Ada Jesus by punching her in a delicate spot. However on the footage, the pair can be heard laughing loudly.
James Brown seems to know a lot of attractive women in the entertainment business and always mingles with them, which frequently makes tongues wag.
Together with Ada Jesus, the crossdresser has also been seen with voluptuous Nollywood actress Chioma Nwaoha on numerous occasions, which has also brought forth suggestive responses online.
For more updates, always visit dailygam.com