Entertainment
How can an unhappy Man give insights on how to be happy?— Yul Edochie faces backlash as he shares secret to a happy life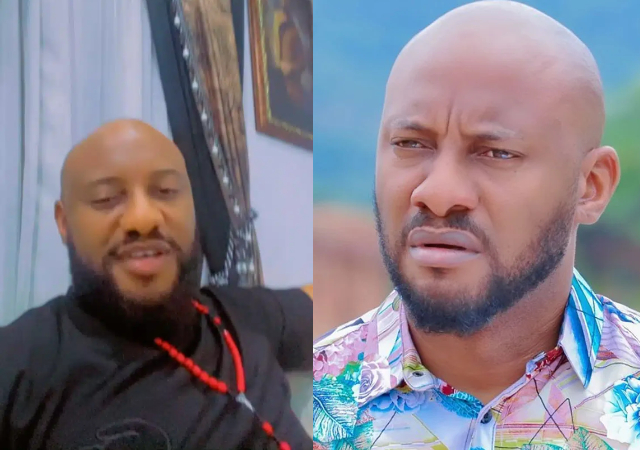 Yul Edochie, a well-known Nollywood actor, sparks conflicting responses as he divulges the key to leading a happy life.
The polygamist who has received criticism ever since he married a second woman keeps up his peak form despite constant troll attacks.
Yul Edochie recently gave his followers advice on how to live a happy life via his Instagram profile, emphasizing the importance of being appreciative.
"Always be grateful for what you have. If you keep looking at what you don't have, you will never be happy. Be grateful for what you have, and be grateful for where you are and what you have achieved.

I'm not saying you shouldn't set goals for yourself or that you shouldn't set targets. The fact that you're still alive means that you're winning even if you haven't achieved much. A lot of people died yesterday, and a lot of people are dying at the moment. The fact that you have life means that you are winning," Yul Edochie said.
Reactions culled below:
its_ozioma: "How can an unhappy Man give me insights on how to be happy😂😂"
moraa_malaika: "I wish you would have appreciated the wife of your youth and stop quenching outside. You should have cherished and appreciated what you already had and cherish it. Anyway take your own advise."
izzy_amara: "Anytime you dey May house, you go begin dey yarn dust. Visiting dad… Which day are we going to see you yarning for juju house?"
mildredbansah: "Be grateful and contented! We are waiting to hear you and May renewal of vows, i trust you to make things right and shame those who want to ruin you my dear. Be safe."
reo_ndidi_nwaigwe: "You are you grateful that you went ahead to sign your death warrant to add to what you have because of long throat."
For more updates, always visit dailygam.com