Entertainment
Skit maker, Mr Macaroni sues two APC supporters for claiming he collected N7m to support Obi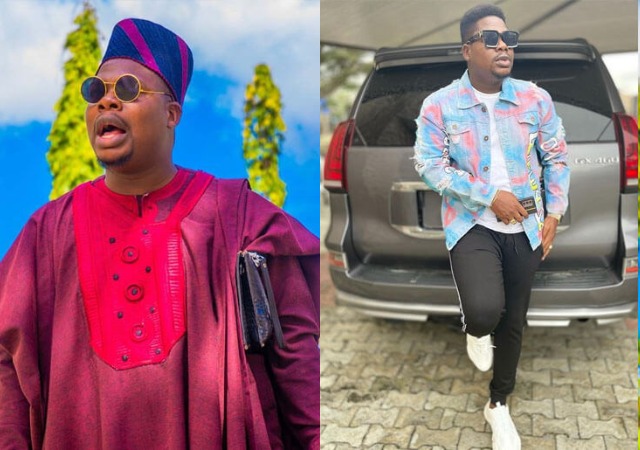 Debo Adedayo, a comedian and social activist better known by his stage name Mr. Macaroni, has sued two All Progressives Congress (APC) supporters for making defamatory remarks.
He claimed to have instructed his attorneys to launch a case against Qudus Akanbi and Sadiq, who claimed to have received N7 million from a diaspora group in exchange for his support of Peter Obi, the Labour Party's presidential candidate.
In November 2022, Akanbi with Twitter username @Qdpaper 2 tweeted;
Macaroni chose to sue him alongside Sadiq because he believed the claim to be an assault on his reputation.
In a tweet on his verified Twitter page, he announced this and mentioned that the second respondent had already received a summons.
Qudus wrote; "After learning that the producer of the skit had filed a lawsuit;

"Dear Macaroni, you have blocked me and I have blocked you too, you don't have to look for me I live in Lagos and you also live in Lagos, just tell me the chamber of your lawyer and let me pick up my later. When you are ready I am ready."
However, the comic act and content producer requested Qudus to provide his complete identity so that the letter could be handled appropriately.
He posted images of previous tweets in which Akanbi and other APC supporters harassed him and falsely accused him.
Mr Macaroni wrote; "Dear Qudus, I have unblocked you.

All I need is your full Government name and your address so that the letter can be properly addressed to you. Pls don't stress yourself to pick up. You can Dm me or send to the mail in my bio. It will be delivered to you as a valentine gift.

Of all the people that attack me daily, I singled out Qudus and one other Sadiq for false accusations. Sadiq has received his letter and a suit will follow soon as we are yet to get a response. The only reason I made this public is because we couldn't get an address for Qudus."
Dear Qudus, I have unblocked you.
All I need is your full Government name and your address so that the letter can be properly addressed to you.
Pls don't stress yourself to pick up. You can Dm me or send to the mail in my bio.
It will be delivered to you as a valentine gift. https://t.co/v8XQQ2E1Zk

— MrMacaroni (@mrmacaronii) February 11, 2023
Of all the people that attack me daily, I singled out Qudus and one other Sadiq for false accusations.
Sadiq has received his letter and a suit will follow soon as we are yet to get a response.
The only reason I made this public is because we couldn't get an address for Qudus. pic.twitter.com/LRJafXOQgE

— MrMacaroni (@mrmacaronii) February 11, 2023
Dear Macaroni, you have blocked me and I have blocked you too, you don't have to look for me I live in Lagos and you also live in Lagos, just tell me the chamber of your lawyer and let me pick up my later.

When you are ready I am ready. 😎 pic.twitter.com/LCzctxjTDG

— Qudus Akanbi Eleyi Of Macaroni. (@Qdpaper2) February 11, 2023
For more updates, always visit dailygam.com