Politics
Keyamo claims that Peter Obi plan to stage his attempted assassination.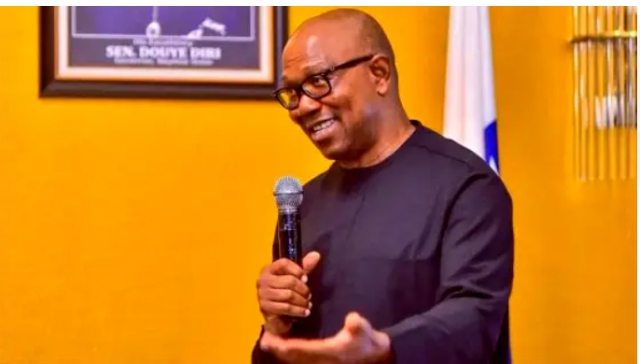 Festus Keyamo, the official spokesman for the APC Campaign Council, claimed that Peter Obi plan to stage his attempted assassination.
In a statement released in Abuja on Monday, Keyamo claimed that Obi intended to stage an attack on some of his party secretariats with the help of hired followers wearing APC hats and T-shirts.
The Minister of State for Labour and Employment also charged Obi with disseminating a hateful video online to disparage Asiwaju Bola Tinubu, the APC's presidential candidate.
Festus asserted that the Labour Party candidate created the message on purpose and disseminated the offensive video himself as part of a campaign strategy. Festus challenged Obi to disclose the source and name(s) of those responsible for the ambiguous WhatsApp message.
"Our attention has been drawn to an offensive, hate-filled video made and circulated by the Labour Party's presidential candidate, Mr. Peter Obi, in which he accused an ill-defined and nonexistent "Tinubu's Group" of disseminating a WhatsApp message urging the Yoruba people not to vote for him," the statement read. According to Mr. Obi, the alleged letter cautioned the Yoruba that voting for Obi would mean supporting a seaport in the South-South and South-East.
We also know that Mr. Peter Obi is planning to hire Labour Party boys to attack some Labour Party offices while pretending there was an attempt on his life. The boys will be dressed in APC hats and T-shirts. All of this is a component of the "US Plan." It is the first of several inflammatory moves that this unprepared but desperate politician has planned.
"First and foremost, we categorically reject the idea that there ever was a "Tinubu gang" that created and disseminated such a statement. All of the organizations backing the APC presidential candidate and his vice presidential running mate have distinct names and reputable promoters. Additionally, the only messages that have been authorized and for which we accept responsibility are those that have been distributed by the APC Presidential Campaign Council.
"Mr. Peter Obi has suddenly realized that Nigerians are starting to burst his bubbles as his messages are devoid of ideas, depth, and clear-cut solutions to our difficulties as the start date for campaigns approaches. In what is obviously a dishonest ploy to divert attention from a study of his empty records as governor of Anambra State, all of his communications contain is bogus information and lofty rhetoric. This is why he took the simple route of playing the race card and stoking the flame of hatred.
"We have it on good authority that the "US Strategy" included returning to the nation to incite ethnic animosity among the electorate, similar to the unsuccessful "Dubai Strategy" that his old employer and he followed in 2019 and stir up trouble, then act like the victim. By planning and disseminating the aforementioned video, they have simply started that plot.
"We find it completely disgusting, demeaning, and insulting to the sensitivities and sensibilities of Nigerians for a presidential candidate of the caliber of Peter Obi plan to stage his attempted assassination and make such a video parroting a fictitious, unverified, and sham message that has the potential to widen our nation's rifts and foster ethnic tensions even more. This is totally unworthy of a presidential candidate who wants to bring the nation together.
"Again, it is important to note that Mr. OBJ's most recent stunt is consistent with what is now widely believed to be his adoption of hate as a campaign strategy. This is because he has repeatedly failed to stop his known and identifiable supporters, who are primarily based on social media and threaten political opponents with violence and death, from spewing such threats.
"We call on all well-intentioned Nigerians, regardless of ethnic origins or political divides, to rise up and condemn this tactless tactics and cheap maneuver by a desperate non-starter of a presidential candidate who has decided to resort to crude revisionism, ethnic jingoism, and crass insensitivity with a view to whipping up undeserved sentiment to fuel his faltering ambition that is nothing more than a flash in the pan. If Mr. Peter Obi has nothing further to say to Nigerians, we advise him to withdraw from the race.
In response to Keyamo's accusation, Obi's media assistant Emeka Obasi called it false and expressed surprise that someone with Keyamo's demeanor would make such a claim.
It is a fallacy, he declared. You media professionals should also be able to spot false information. Does Peter have the appearance of someone who fakes or pretends? What do we stand to gain by beginning to stage assassinations? Do they intend to carry out such an endeavor and hold Obi accountable for it in any way? We should publish it in the media because the general public needs to be informed.
"Does Keyamo know more than we do, or is she merely crying wolf now that she has the chance? Why would he make such a foolish statement, exactly? Does he believe that Obi is an agent of the imperious Old Order? When he says, "Go and verify," does it seem shady?
But we are aware of Keyamo's previous actions. He shouldn't be saying things like Obi is trying to stage his assassination attempt, right? It is dreadful to say that.