Politics
2023: Atiku Plan's on Dealing with insecurities and the Stagnant Economy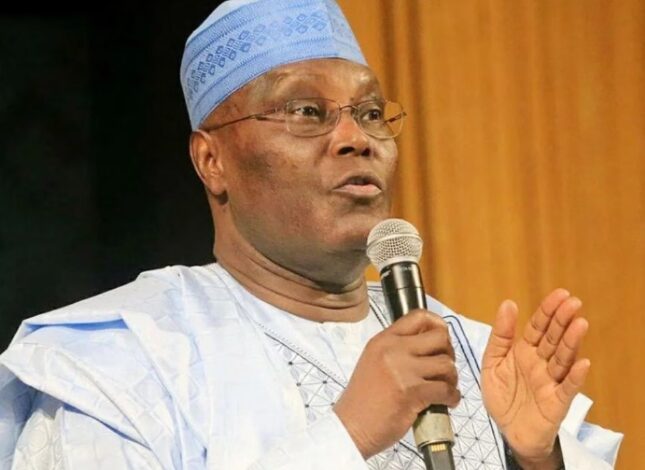 Atiku plan's– If elected in the upcoming general elections, Atiku Abubakar, the Peoples Democratic Party's (PDP) presidential nominee, promises that his administration will tackle the country's security concerns by making unpopular decisions.
About six months out from the election, the PDP candidate pledged to prioritize reviving the "crawling" economy, particularly with the help of the private sector.
He spoke at the Private Sector Economic Forum on Tuesday in Lagos, which was sponsored by the Lagos Chamber of Commerce and Industry (LCCI).
Atiku, who served as vice president from 1999 to 2007, stated, "We will make difficult judgments on security issues without fear or favor." "Investment is a timid animal that shies away from conflict and unpredictability. I'll end the funding curse for infrastructure.
He bemoaned the severity of poverty and the alarming unemployment rate, which he claimed were two of the main causes of the country's insecurity.
"Instead of advancing, the Nigerian economy is merely crawling. Since 2015, the per capita income, a gauge of a country's residents' well-being, has steadily decreased due to diminishing output and a rapidly expanding population. The situation of Nigerians is worse now than it was in 2015, he claimed.
The economy's backbone, the oil and gas industry is one of Atiku's plan, this sector has seen declines in 19 of the last 30 quarters since 2014. It still feels like a recession to many economic sectors and common people.
"Our people are not employed by the current administration. Over 23 million people are unemployed. The number of persons who are completely employed has decreased by 54% in just five years, from 68 million to 31 million, between 2015 and 2020.
Nigeria Dressed in Lended Robes?
According to Atiku, there are more unemployed individuals than there are people living in Lagos, the Federal Capital Territory (FCT), Abia, Bayelsa, Cross River, Ebonyi, Kwara, and Nasarawa states.
The majority of the unemployed, he said, were young people without families, jobs, or prospects for the future.
According to Atiku, the Federal Government paid more in debt payment than any other entity in Nigeria's history.
He stated that Nigeria was already breaching one of the applicable debt-sustainability thresholds by spending more than 100% of its revenue for debt service.
The former vice president lamented that capital has taken a flight while policy incoherence and flip-flops, combined with internal insecurity have continued to pose a significant risk to investment and output growth.
For him, Nigeria has lost its esteemed position as Africa's preferred investment destination to less endowed nations, and the failure of the present administration is staring every Nigerian in the face as the country's economic, social, political and security challenges persist and assume frightening dimensions.
In contrast to 2015, Atiku remarked, "More Nigerians are poorer and more wretched today." "Average Nigerians can no longer afford basic necessities. Today's price of a loaf of bread is 100% higher than it was in 2020.
"Farmers now spend more than 200% more for a fertilizer bag than they did in 2020, if they can even find it. Nigeria is being adorned by the APC-led administration in borrowed garments! Nigeria has no money. Since taking office in 2015, Nigeria's APC-led administration has continuously faced budget deficits. These budget deficits frequently exceed the 3% cap permitted by the Fiscal Responsibility Law.
For more updates and information always visit dailygam.com