Politics
How Atiku Could Remove Ayu As PDP National Chairman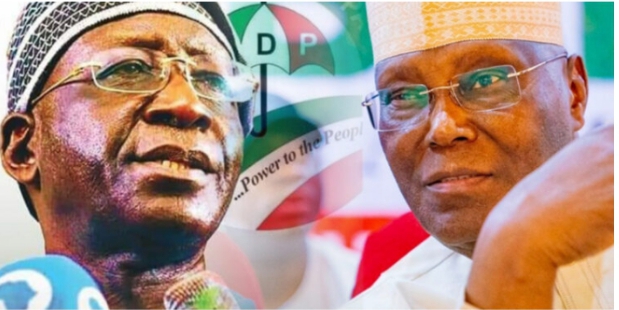 With regards to the growing agitation for the removal of PDP National Chairman Atiku Abubakar, the Peoples Democratic Party's (PDP) candidate for president, spoke up on the matter of Senator Iyorchia Ayu's resignation as the party's national chairman on Wednesday.
The call for a re-composition of the party's National Working Committee (NWC), which Atiku and other party leaders headed to Ibadan for, was not impossible, he added, but only when the party's constitution had been changed to enable such a demand.
He was quoted as saying in a statement by his media advisor, Paul Ibe, that "The Peoples Democratic Party is the oldest political party in Nigeria since the return of democracy and even before that."
"It is a party that has established guidelines.
"I joined the party when it was founded, and I am still a member of the party to the extent that it has developed into."
In response to the growing calls for the resignation of the PDP national chairman, Oyo State Governor Seyi Makinde sought Ayu's resignation on behalf of the South-West PDP.
The vice president responded by stating that nobody could alter the National Working Committee from the PDP's perspective. The PDP is a party with established rules and guidelines.
"We can only make the changes to our party's constitution that Governor Makinde is requesting. As things are right now, no one person has the authority to influence the party's NWC. The party's rules will be broken and it will be illegal to do so.
The presidential candidate claims that if the PDP takes such arbitrary action against itself, Nigerians won't trust it to govern according to the principles of the rule of law.
Leaders of the PDP from the six states that make up the geopolitical zone participated in the interactive session with the south-west stakeholders, and they all agreed that the PDP should win the general election of the next year.
The chief host, Governor Makinde, former governor of Ekiti State, Ayo Fayose, current governor-elect of Osun State, Senator Ademola Adeleke, and PDP candidates for governor in Lagos State, Olajide Adediran and Funke Akindele, were among the PDP leaders who attended the interactive session.
Others include Liyel Imoke, the former governor of Cross River State; Atiku, the PDP vice presidential candidate; Delta State Governor Dr. Ifeanyi Okowa; PDP Governors' Forum Chairman and Sokoto State Governor Aminu Tambuwal; PDP Deputy National Chairman (North), Umar Damagum; and PDP National Deputy Chairman (South), Ambassador Taofeek Arapaja.
For more information and other related metro and political news always visit dailygam.com