Politics
Tinubu names Yahaya Bello as his Campaign Council's Youth Coordinator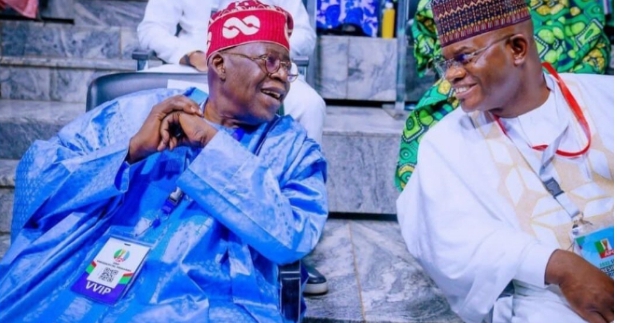 The National Youth Coordinator for the Tinubu-Shettima Presidential Campaign Council is Kogi State Governor Yahaya Bello.
The announcement of the appointment was made in a letter to Governor Bello that was signed by Bola Tinubu, the APC's presidential candidate.
In a letter dated August 8, 2022, Tinubu emphasized that Bello, a candidate in the party's presidential primary, deserved the appointment because of his noteworthy political accomplishments and the exceptional leadership he had shown while serving as governor of his state and as a party member. Bello was also a candidate in the primary.
Read Also: Campaign Council: PDP's action puts pressure on APC
He continued by expressing his confidence in the governor's ability to carry out the new duty entrusted to him, which is to see to it that the party runs an effective and message-driven campaign that would result in its triumph in the 2023 presidential election.
"By way of this letter, we are glad to formally express your appointment as National Youth Coordinator of the Tinubu/Shettima Presidential Campaign Council," said the letter headlined "Appointment as National Youth Coordinator for Tinubu/Shettima Presidential Campaign Council."
Given your tremendous political accomplishments and the excellent leadership you have shown as the governor of your state and as a party member, this appointment is acceptable and fitting. We appreciate your participation in our campaign. We run a successful, message-driven campaign that will help us win the 2023 presidential election because we have full confidence that you will perform to the best of your ability in this new role.
"By building on the successes of our party and the President Muhammadu Buhari government in bringing progressive good governance to Nigerians, we shall not only assure the victory of our party in the February 2023 election, but we shall also take Nigeria along the path of national greatness. We pray for God's wisdom and haste for you.
"Congratulations. Please accept our sincere respect and concern for you always.
Governor Bello promised in his acceptance letter that he would do everything in his power to help the APC's presidential candidate win the election.
The speaker said, "Your Excellency is one outstanding Nigerian I know, who not only exemplifies but abundantly exhibits, through transformational leadership and good government, my own ambitions for a Nigeria that is secure, unifying, and affluent."
For more political news always visit dailygam.com