Global News
Osinbajo arrives in London prior to Queen Elizabeth's funeral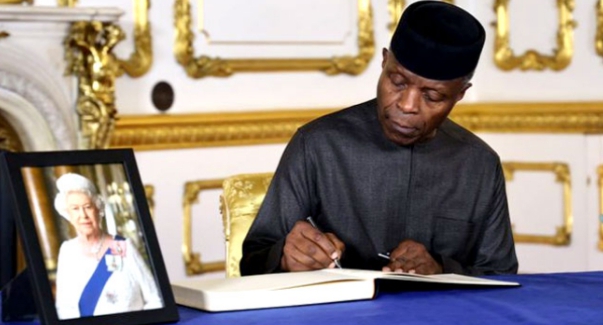 Prior to the official burial of the late Queen Elizabeth ll of the United Kingdom, Vice President Yemi Osinbajo has traveled to London.
While in the UK, Professor Osinbajo, who left Abuja on Saturday, would represent Nigeria at several ceremonies, including the funeral service.
According to his media assistant Laolu Akande, the Vice President paid his respects at the Queen's Lying in State at Westminster upon his arrival in London on Sunday for the burial of the late Queen.
Read Also: Osinbajo explains why Nigeria could gain more benefits from its gas reserves.
"Nigeria joins the government, people of UK, Commonwealth, and rest of world in expressing our profound condolences to the royal family on the demise of a monarch for all seasons," he said in his signature on the register of condolences. May the Lord keep her memory blessed.
After then, Professor Osinbajo was welcomed by James Cleverly, the UK Secretary of State for Foreign, Commonwealth, and Development Affairs, according to Akande in a tweet.
Cleverly thanked Nigeria for its support of the UK at this difficult period, and the two men also spoke about Liz Truss, the British Prime Minister, showing interest in strengthening ties with Nigeria.
The Vice President would be welcomed by King Charles III and Queen Consort Camilla at a reception in Buckingham Palace later that night (on Sunday), along with other world leaders, including Commonwealth leaders, heads of state, governors general, prime ministers, and representatives of foreign royal families.
Akande stated that Professor Osinbajo would attend the funeral service at Westminster Abbey on Monday together with the royal family and other foreign leaders.
The longest-reigning British monarch and Head of the Commonwealth was Queen Elizabeth II. On September 8 at Scotland's Balmoral Castle, she passed away at the age of 96.
With 500 Heads of State and foreign dignitaries invited, more world leaders have started to gather in London ahead of her funeral.
Earlier on Sunday, US President Joe Biden was captured on camera standing on the balcony of Westminster Hall, where he and his wife, Jill, had gone to pay their respects to the late British monarch.
Others who visited the late queen's body while it lies in state in Westminster Hall, including Brazilian President Jair Bolsonaro, South African President Cyril Ramaphosa, and Cypriot President Nicos Anastasiades, also paid their respects.