World Cup
The stats for Argentina's matchup with Croatia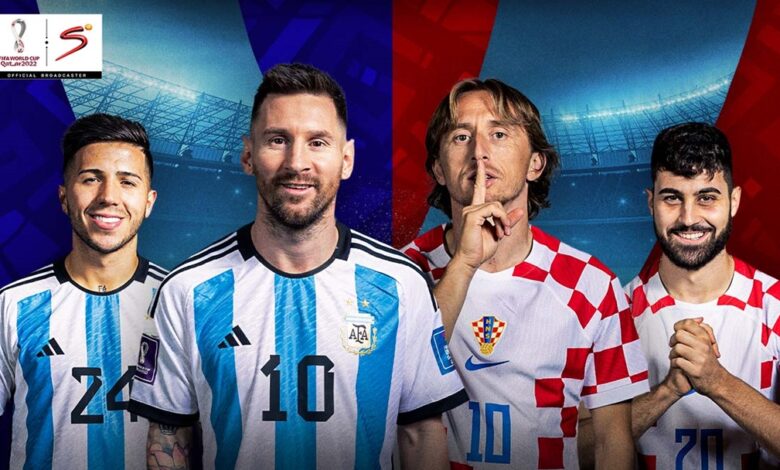 Argentina and Croatia have met three times at the World Cup , but this is their first encounter in the knockout round. Prior to Croatia's 3-0 victory in the 2018 edition in Russia, Argentina won by a score of 1-0.
Only Germany had more appearances in the World Cup final than Argentina, who are attempting to make it for the sixth time (8). They have never lost in the semifinals; their most recent victory came in 2014 when they defeated the Netherlands.
Croatia, who were losing finalists in 2018, has a chance to join Germany, the Netherlands, and Italy as the only other European countries to have advanced to back-to-back World Cup finals (1982, 1986, 1990).
Following their victory over Brazil on penalties in the quarterfinal, Croatia might join Germany in 2014 as the only teams to knock both Argentina and Brazil out of the World Cup's knockout rounds.
Argentina has only defeated Poland by a score of 2-0 in their last seven World Cup games against European opponents (D3 L3). Two of the three draws, meanwhile, have led to victory in penalty shootouts.
Croatia hasn't opened the scoring in any of their last nine World Cup games since a 2-1 victory over Iceland in the 2018 group stages, despite being on the verge of making back-to-back finals. This is the farthest any team has advanced in the competition without scoring first in any of their games.
Croatia has 10 World Cup knockout stage games under their belt and has never failed to score. They have, however, given up at least once in each of their previous eight games, and five of those games have gone into overtime.
Although Argentina failed to win after going two goals ahead in a World Cup match for the first time in their 2-2 draw with the Netherlands, they have scored first in each of their five World Cup games this year. In fact, they've given up 12 of the last 13 goals at the World Cup in the second half of games.
Croatia has triumphed in all four of its World Cup penalty shootouts, eliminating Brazil and Japan in the quarterfinal and last 16 of 2022, respectively. Argentina is the only country in the competition to have won more penalty shootouts (5).
Lionel Messi will tie Lothar Matthäus for the most World Cup appearances if he participates (25). He currently has 10 goals for Argentina in the campaign and is just one assist away from matching Diego Maradona's all-time World Cup finals record of eight (since 1966).
Lionel Messi of Argentina has contributed to goals by both scoring and setting up others in three different World Cup games, including two this year (vs Mexico and Netherlands). No player has accomplished this feat in four different games since 1966.
The most World Cup appearances (17) and big tournament appearances (30) for Croatia belong to Luka Modric. He has started each of their five 2022 World Cup games, and he stands to become just the fourth player (after Nilton Santos of Brazil in 1962, Dino Zoff of Italy in 1982, and Peter Shilton of England in 1990) to start six games at a World Cup while still in his late-thirties.
For more update, always visit dailygam.com