Entertainment
Actress Lilian Afegbai confesses 'How s3x with Jim Iyke almost got me expelled from Uni'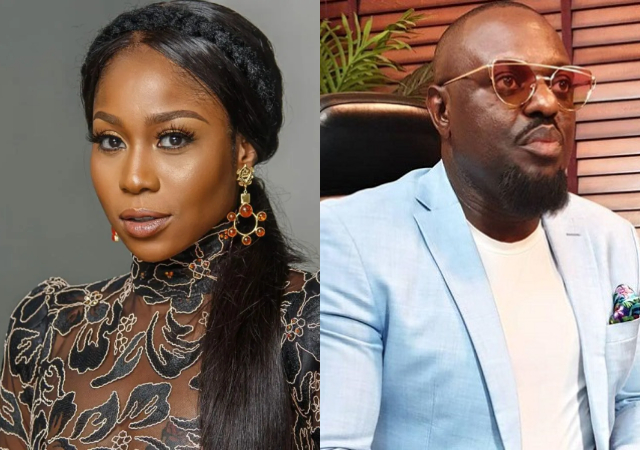 After filming a scene involving sex in a movie with Jim Iyke, Nigerian actress Lilian Afegbai recalled how she almost got expelled from Benson Idahosa University (BIU), Benin, Edo State.
On the most recent Tea with Tay episode, Afegbai said that she had to appear before a disciplinary panel at Benson Idahosa University (BIU) in Benin.
When she was juggling education and a career in film, she claimed that the acting gig was her first movie role.
"I STARTED ACTING FULLY IN BIU. IN THE FIRST MOVIE THAT I DID, THEY ALMOST EXPELLED ME FROM SCHOOL BECAUSE I HAD A SEX SCENE WITH JIM IYKE. SO WHEN THE MOVIE CAME OUT, THEN I WAS YOUNG," AFEGBAI SAID.
LILIAN AFEGBAI ADDED, "IT WAS JUST A LOT, AND PEOPLE IN THE SCHOOL, YOU KNOW HOW JEALOUSY NOW, PEOPLE STARTED TELLING OUR REVEREND SEB'S WIFE AND SO THEY BROUGHT THE MOVIE TO SCHOOL, THEY SAID I ACTED AN ILLICIT SCENE, THEY FIXED A PANEL."
She claimed that she had to explain to them that everything they had witnessed was fictitious and that she would do nothing to put her Christian beliefs in danger.
"I THOUGHT I WAS GOING TO GET EXPELLED. I WAS SCARED. IT WAS A CHRISTIAN SCHOOL AND WHEN PEOPLE START TALKING ABOUT THINGS IN SCHOOL AND MAKING IT A THING, YOU ACTUALLY FACE A PANEL. WHEN I WENT TO THE PANEL, I STARTED MAKING THEM UNDERSTAND THAT I AM CHRISTIAN. I WOULD NEVER DO ANYTHING TO JEOPARDIZE MY CHRISTIAN FAITH BUT THEN THIS IS ACTING MA, IT'S MAKE-BELIEVE."
Additionally, Lilian Afegbai argued that divorce is not just a problem in the entertainment sector.
SHE SAID, "AS MUCH AS PEOPLE SAY ACTRESSES DON'T MAKE GOOD WIVES, SOME ACTORS ARE MARRIED AND HAPPY. WE SHOULD STOP FOCUSING ON THE NEGATIVE BUT RATHER ON THE POSITIVE. VETERAN ACTRESS, JOKE SILVA, IS STILL MARRIED TO ANOTHER VETERAN, OLU JACOBS. EVEN IF PEOPLE SAY THEY BELONG TO AN OLDER GENERATION, THERE ARE MANY YOUNG ACTORS WHO ARE MARRIED AND ARE HAPPY. IN THE BANKING, MEDICAL AND OTHER SECTORS, PEOPLE ALSO GET DIVORCED. IF ONE GOES TO COURT, ONE WILL FIND THAT PEOPLE FROM DIFFERENT WALKS OF LIFE GET DIVORCED EVERY DAY."
The actress, who was once a contestant on Big Brother Africa, previously addressed the widespread perception that most of her coworkers depend on wealthy men for their means.
For more updates, always visit dailygam.com