Entertainment
Adorable moment Munir, the son of Regina Daniel, knelt to ask his mother for forgiveness after damaging his new toy.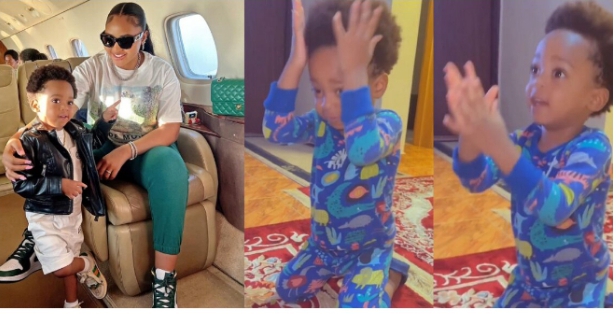 Regina Daniels, a Nollywood Actress, tweeted a sweet video of her son Munir pleading with her for forgiveness after he shattered a toy she recently bought for him.
A tiny tennis racket was a recent purchase made by the mother of two for her son Munir because he enjoyed using it. She gave it to me a day ago, but when she went home yesterday night, she discovered that it had been harmed.
When Regina noticed this, she urged her son Munir to say, "I'm sorry, Mama. Mama, please forgive me," he said, bending down and folding his hands.
Munir obliged with this, but everyone in the room laughed at his mood and the way he repeated what his mother had ordered him to say.
Regina Daniels urged her son to give her a hug as everyone laughed, and he did so while murmuring, "Forgive me, Mama, I'll not do it again."
The tiny child ultimately fumbled the words and mumbled, "I forgive you, mama," which caused another round of laughter.
Regina posted the gorgeous video to her Instagram account with the remark,
"This moon is just a big case. He loves playing with tennis rackets so I bought him a mini one on my way from work yesterday, I just returned home today and it's damaged. I don't even know what to do with him @princemunirnwoko"