World Cup
At the World Cup match between France and Poland, Mbappe and Lewandowski square off.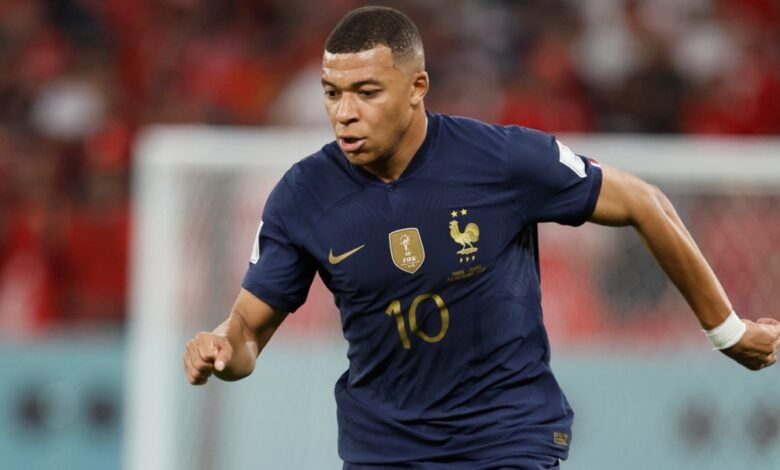 Kylian Mbappe, who will captain France against Poland in the round of 16, is perhaps the most exciting player at this World Cup. Poland's hopes of pulling off a famous shock will mostly lie on Robert Lewandowski.
It is depressing to consider that Mbappe, who won't turn 24 until later this month, may not yet be at the height of his abilities despite having scored seven goals in 10 World Cup games.
This total includes one in the 2018 championship game, which France won over Croatia in Moscow when he was still a teenager.
His current goal is to assist his nation in becoming the first to defend the World Cup since 1962, when Brazil did it with an even younger Pele.
As the undisputed star of Didier Deschamps' team, Mbappe has already scored three goals in Qatar, including a brace in a 2-1 victory over Denmark that guaranteed qualification for the round of 16.
Because of this, it's possible that Karim Benzema's injury-related withdrawal on the eve of the tournament doesn't hurt French hopes in the same way it might at Paris Saint-Germain, where he shares the spotlight with Lionel Messi and Neymar.
Kylian has no ego," insisted Deschamps a few days ago, going against the perception of Mbappe in the context of PSG.

"He is a decisive player for us and his performances put him in the spotlight. He is not 18 anymore. He has experience now."
Not just Mbappe, who now equals Zinedine Zidane's record of international goals, was absent as France's backup team fell to Tunisia 1-0 on Wednesday, a result that did not prevent them from winning their group.
He will be present when France and Poland play each other at a major competition for the first time since the 1982 World Cup, along with players like Hugo Lloris, Antoine Griezmann, and Olivier Giroud.
'BEYOND REPROACH'
"Kylian is not the same player or person as in 2018," said Griezmann on Friday when asked about Mbappe's role in a squad hit by injuries to several key players before the tournament.

"He is much more a part of the squad now. He speaks a lot and has fun. He knows that the media, fans and even his teammates will be watching everything that he does but he is beyond reproach."
Despite the fact that France are unquestionably the favorites for the match on Sunday, there is still the memory of what happened in the round of 16 at the 2017 European Championship, when Kylian Mbappe missed the crucial penalty in a shootout loss to Switzerland.
Lewandowski's goal against Saudi Arabia, his first World Cup goal, was crucial as Poland barely made it out of their group, beating Mexico on goal differential.
"I'm aware it might be my last World Cup and I wanted to be able to say that I've played and scored at World Cups," he said after that game.
The 34-year-old also got nine goals in qualifying and there is nobody else quite on his level in Czeslaw Michniewicz's squad.
"We are happy because getting out of the group was our objective," said defender Jakub Kiwior after the team trained on Friday.
It's a treat to see Mbappe and Lewandowski on the same field.
Although they are two of the most productive forwards in the modern game, they are two very different types of strikers; one is the ultimate penalty box finisher who is now towards the end of his career, and the other is all about explosive pace going into the box from wide areas.
Lewandowski relocated to Paris Saint-Germain, per French media reports, after leaving Bayern Munich for Barcelona during the previous offseason.
Le Parisien claimed on Friday that after signing Mbappe to a new deal in May, PSG attempted to persuade Lewandowski to join them.
Just a few months ago, Mbappe was said to be quite dissatisfied at his club, and one of the reasons for this was PSG's failure to buy Lewandowski or another top-tier No 9.
Those rumors have since subsided, and now that Lewandowski is in his way, he is concentrating on the World Cup.
For more updates, always visit dailygam.com