World Cup
France's probable starting line-up for World Cup final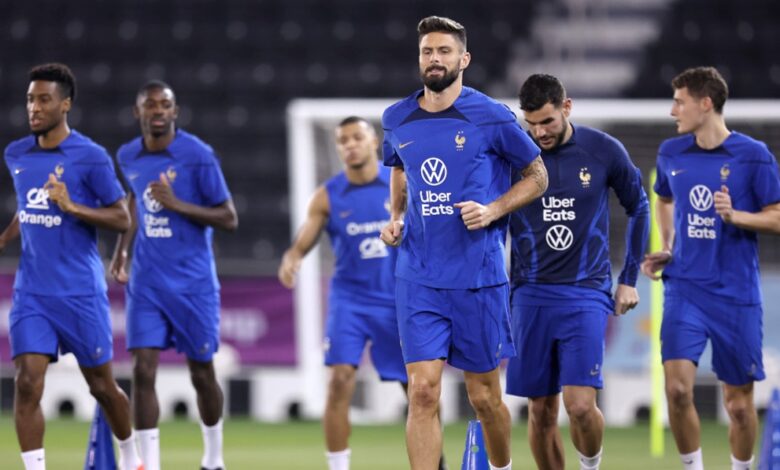 Didier Deschamps is set to start with the same lineup against Argentina in the World Cup final, but he may make one significant alteration in the center of defense as the reigning champions attempt to stop Lionel Messi's danger at the Lusail Stadium on Sunday.
Following is France's possible starting lineup:
Hugo Lloris
Lloris, France's first choice goalkeeper and captain for more than ten years, is known as one of the best shot stoppers in the world but is typically a slow starter at major tournaments. However, in the knockout rounds, Lloris dramatically raises his level. France will be desperate to avoid the match being decided by penalties after 120 minutes of play because of his dismal record in shootouts.
Jules Kounde
In club football, Kounde plays center defense for Barcelona; however, due to injuries, Didier Deschamps has been forced to use him at right back, a position he has grown to appreciate in Qatar. While he still needs to contribute more moving forward despite being a strong defender, his overall performance has been more than satisfactory.
Raphael Varane
Vice-captain of the team and in charge of the defense. Varane missed the first match against Australia due to a hamstring issue, but he has made steady progress since then. Lionel Messi and Julian Alvarez will be easier to control thanks to his knowledge and composed demeanor.
Dayot Upamecano
His physical presence is stunning, as is his prodigious ball-carrying skills, which are a crucial component in France's success in quick transitions and counterattacks. He can be incredibly reliable but yet prone to mistakes, as evidenced by his performance against England, where he might have given up an early penalty for a foul on Harry Kane.
OR
Ibrahima Konate
played the opening match against Australia because Varane was injured and had a significant impact. He was the sole player of world-class caliber that day in Tunisia's 1-0 group-stage loss, and he was equally remarkable. Due to his anticipation skills, he was given another chance to showcase his abilities against Morocco in the semifinals when Upamecano was forced to withdraw due to illness. This could have tempted Deschamps to choose him over Upamecano.
Theo Hernandez
Has lived up to expectations and earned his spot in the starting lineup when his brother Lucas suffered a knee injury in the first group game. While advancing, he poses a threat, and France benefits greatly from his connection to Kylian Mbappe. scored the first goal in the semi-final matchup with Morocco.
Antoine Griezmann
He was a Renaissance man. He was lacking in confidence when he returned to his former club Atletico Madrid following a difficult few months at Barcelona. He has been brilliant in this new position, therefore Deschamps' choice to put him in midfield proved to be a genius one.
He is demonstrating remarkable ability to play between the lines and is proving to be crucial in both attack and defense. He is the driving force behind France's journey to the final, and his exquisite cross from the left flank set up Olivier Giroud for the game-winning goal against England.
Aurelien Tchouameni
the important player in front of the defense His role is one of the most crucial in an attacking-minded team to maintain the balance, and he has been doing an excellent job in that regard. He may also provide a threat up front, as evidenced by the 25-meter goal he scored against England.
Adrien Rabiot
He makes up for Mbappe's lack of defensive effort in the midfield. He is one of the team's key players in Qatar thanks to his pace and devotion, and his absence against Morocco was greatly noticed. can also make an outside-the-box strike.
Ousmane Dembele
His speed and dribbling skills are a defender's worst nightmare. After a strong start to the competition, when he also displayed tactical restraint when necessary to defend on the right flank, Dembele has been slipping and making terrible decisions. In the championship game, he will need to rediscover his form.
Olivier Giroud
Karim Benzema's injury forced him to take Karim's spot in the starting lineup, and he promptly performed by scoring 53 goals to become France's all-time leading scorer. He scored the game-winning goal against England in the quarterfinals, and his partnership with Mbappe is one of the key factors in Les Bleus' success. Had a dismal performance against Morocco and will be eager to improve in the championship game.
Kylian Mbappe
The team's top scorer, with five goals in his first four games. He is the man to mark in the French team because to his explosive quickness, dexterous dribbling, and strong strikes. In the semifinal, Morocco and England both surrounded Mbappe with six defenders, and he was unable to score against each of them.
Hernandez and substitute Randal Kolo Muani were given the leeway to score France's two goals thanks to the attention Mbappe received in the semifinals. Mbappe is always decisive as he strives to win his second World Cup before turning 24 regardless of whether he is scoring or not.
For more updates, always visit dailygam.com