Entertainment
Charly Boy – I've lost respect for Soyinka, he's now an errand boy for criminal politicians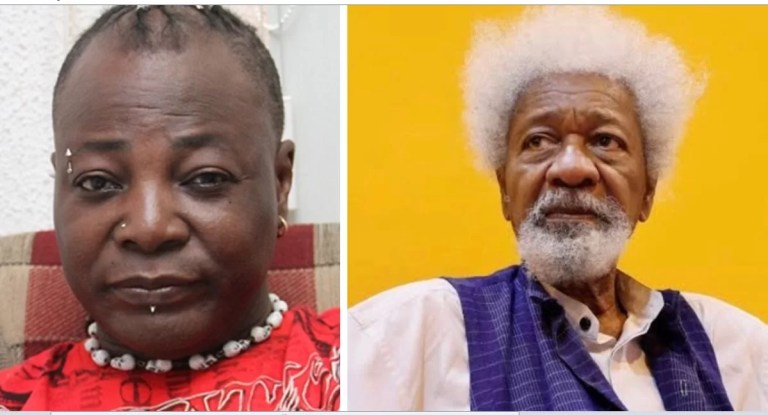 Veteran musician and social activist Charles Oputa, better known by his stage name Charly Boy, has criticized Nobel laureate Prof. Wole Soyinka for his statement criticizing Labour Party vice-presidential candidate Datti Baba-Ahmed and his subsequent remark attacking Peter Obi supporters.
Soyinka referred to Baba-Ahmed's statement in an interview that swearing in a candidate who was proclaimed the winner without fulfilling constitutional requirements would put an end to democracy as "fascistic."
However, he received harsh criticism from Obi's adherents, known as Obidients, for using the word "fascism," to which the acclaimed author responded by claiming that their refusal to accept criticism proves his prior viewpoint.
"A climate of fear is being generated. The refusal to entertain corrective criticism, even differing perspectives of the same position has become a badge of honour and certificate of commitment.

What is at stake, ultimately is – Truth, and at a most elementary level of social regulation: when you are party to a conflict, you do not attempt to intimidate the arbiter, attempt to dictate the outcome, or impugn, without credible cause, his or her neutrality even before hearing has commenced. That is a ground rule of just proceeding. Short of this, Truth remains permanently elusive," he said in part.
Charly Boy responded to his claim by saying that he respected Soyinka almost as much as his late father, Justice Chukwudifu Oputa.
All of it, he claimed, is now lost since the esteemed poet has become little more than an errand boy for corrupt politicians.
The singer wrote; "The kin respect I had for dis man, was almost the kind of respect I had for my stainless father, The Socrates of the Supreme Court.

It has finally dawned on me that Soyinka can never be the man Chinua Achebe was. Look at a man many Nigerians put on such high pedestal reducing himself to a boyiboyi for criminal politicians.
For more updates, always visit dailygam.com