Politics
Content creator plans to play election day prank by snatching ballot box (Video)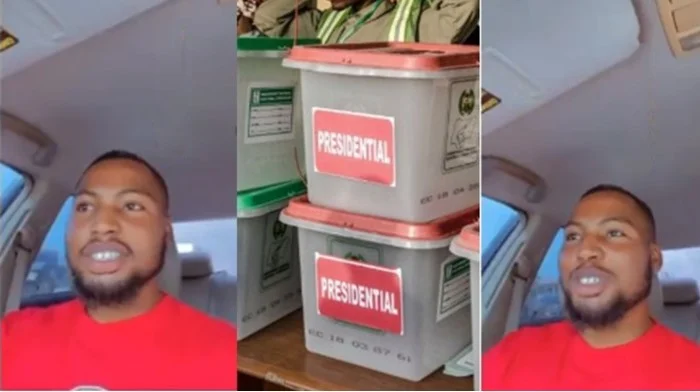 Online discussion has been ignited by a Nigerian jokester who revealed his plans to pull a prank on February 25—election day.
He claimed that as part of a humorous piece of content production, he plans to steal a ballot box as military officers watch.
The young man said that as an eligible voter, he would go to his polling place, wait for his turn, cast his ballot, and then carry the ballot box to the exit.
Yet he claimed that he would admit it was all a joke if the troops attempted to arrest him or shoot him.
Reacting, marrzofficial wrote; In Loving memory of… 🕊️ He is survived by His Girlfriend Chinemerem and two Baby mamas.😢
official_perry_hair; Na when u see your self for heaven angel go take u say na prank bring u here that if u nor go hell 😂
rosythrone; I hope you've enough money b4 doing that so your family can use to cook burial rice? That's very important
charlesofgoodlife; That "it's a prank!" Na for heaven you go dey shout am.
t.u.b.a.b.a; I go like watch the prank video 🙏🙏😂
queen_lu25; Full grown man … you think it's a joke ? This election should be a very serious business 👩‍💼
For more updates, always visit dailygam.com
Black Rifle Coffee dítě hvězdy Coupons & Special Offers – 20% Discount Orangeoffer.com deliver the special Offer to our users, saving you money and time every.