Politics
Eniola Badmus and other major Nollywood stars avoid Funke Akindele.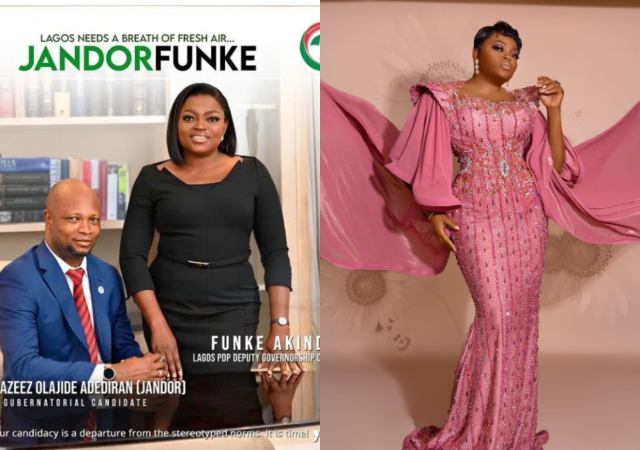 Many of Funke Akindele's colleagues in the film business have distanced themselves from her political ambition since she surfaced as Jandor's running mate for the Peoples Democratic Party (PDP) governorship candidate in Lagos State.
None of her colleagues, not even her on-again, off-again bosom buddy Eniola Badmus, have publicly supported Funke Akindele's political ambitions on their Instagram sites.
Leaving Funke Akindele to campaign alone without assistance from the entertainment industry, the most of them chose to align with the dominant party in Lagos State, the All Progressives Congress (APC).
City People has revealed some of the reasons why Funke Akindele has been left alone.
One of the reasons Funke Akindele's colleagues deserted her is that she comes from the Yoruba genre of the industry, but she rarely appears in Yoruba films. She only works on personal projects and English genre films.
Furthermore, the competition among the movie stars would prevent them from supporting one another's political ambitions.
"Everybody wants to be on top, so supporting just one person to get to the top is too much of a risk for them. Besides, most of them depend on politicians for survival. To now go against politicians is too much a risk for the stars." a source told City People.
Observers have remarked that Funke Akindele has always been a lone minder who does not keep industry pals. Her interactions with anyone in the industry are strictly professional.
Furthermore, Funke Akindele does not associate with the majority of her colleagues, particularly those in the Yoruba genre of the industry. She rarely attends their functions. She, too, does not invite them to hers.
Interestingly, she is a product of the Odunfa Caucus, the strongest association in the Yoruba film industry, and an Odunfa Caucus endorsement would have boosted her political ambitions, but the caucus has remained silent on her issue.
The reason for this is that she does not attend or interact with their events. Even when the founders' birthdays are approaching, she refuses to go.
However, it was discovered that Funke Akindele frequently reaches out to her coworkers in times of need and financially supports them. She, for example, contributed to Kemi Afolabi's medical fund.
When Bimbo Success became ill, she took care of her and paid her medical bills, among many other things.
For more information always visit dailygam.com