Entertainment
Marital Crisis Looms as Davido's Cousin, B-Red And Wife Unfollows Each Other On Instagram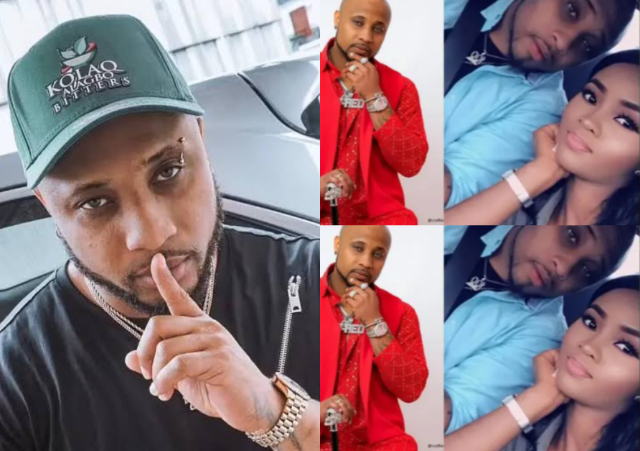 A second Adeleke marriage appears to have failed as B-Red and his wife Faith Johnson have stopped full,owing one another on social media.
The loverbirds had asserted that B-Red and Faith were married even though their nuptials were never made public. Faith disclosed that she was wed to the musician while reacting to a troll, and B-Red had also made the announcement.
However, when B-Red and Faith Johnson unfollowed one another, it appears that their marriage couldn't withstand the test of time.
After checking each of their Instagram accounts, we discovered that the pair is no longer following one another.
This would be the second failed marriage in the Adeleke family this year; the first was the breakup of Sina Rambo and Korth, the older brother of B-Red.
"He can't provide financially for the family"- Sina Rambo's wife, Korth announces end of their one-year old marriage"
Sina Rambo's father, Governor Adeleke's son, Korth Adeleke, has been dragging him and his family even after she said her marriage had ended.
The single mother attacked the aspiring musician on her Instagram account for being an unbeliever.
Sina Rambo, according to Korth, is unable to support his family financially and would prefer to buy pot instead. And he was belittling her mother on top of it all.
"I AM TRULY TIRED. NO, WE CAN'T TAKE THIS ANYMORE. HE DOESN'T EVEN RESPECT MY MUM. SHE GO TALK HER OWN LATER! CAN'T EVEN PROVIDE FINANCIALLY FOR THE HOUSE. FRIDGE ALWAYS EMPTY. BUT CAN ALWAYS BUY WEED O. CHAI!! NA ME MUMU SHA!!!

"FOR Y'ALL SAYING KEEP IT PRIVATE THE MARRIAGE IS OVER AND THAT'S WHY I AM FINALLY SAYING ALL THIS. NO I'LL NOT SUCCUM TO ABUSE!! I'M NOT THAT GIRL. IT'S ENOUGH!!".
While she was dragging Sina Rambo for alleged domestic violence, Korth had made marital problems a subtext.
Korth detailed how she had been feeding and paying Sina Rambo's bills in a series of posts on her Instagram account. She asserted that because she supports her family's needs, the Adelekes' apparent prosperity is all a façade.
She dragged the Governor's son, an aspiring musician, and demanded payment for the money she was owed.
Korth posted a horrific video of what happened after Sina Rambo attacked her violently. Her door had been shattered, and she had been hurt by Governor Ademola Adeleke's son.
For more updates, always visit dailygam.com