Entertainment
Kemi Olunloyo Slams Tiwa Savage In New Music Video With Asake For Justifying Her Leaked Tape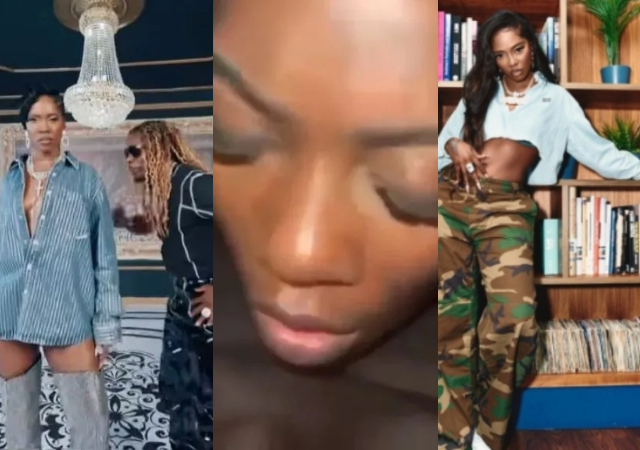 Controversial Nigerian writer Kemi Olunloyo recently criticized Tiwa Savage on social media for defending her leaked tape in a new music video with YBNL singer Asake.
Earlier today, November 8, 2021, Tiwa Savage released a new song titled "Loaded" featuring Asake, as Gistlover previously reported.
In the song's music video, Tiwa Savage, who doesn't seem to have moved past her leaked tape, sings about it. As a result, the song has gained popularity among music lovers and is currently at the top of the charts on Nigeria's Apple Music.
Take note that in October 2021, Tiwa Savage, a mother of one, sparked social media outrage after a video of her having an intimate moment with her lover with her privates exposed went viral.
However, in the "Loaded" tune starring Asake, Tiwa Savage was unfazed, claiming that bloggers simply want to damage her music career because she was having fun. She also stated that everyone participates in such a romantic act.
She said; "Bloggers only want to use me to trend (blogger blogger won fe fimi gba star), $ex tape can't destroy my life ($ex tape ko le baye mi je), just that little fun (Igbadun kekere yen), na who never fu*k hands in the air."
In response to what Tiwa Savage mentioned in her new song, Kemi Olunloyo advised Tiwa Savage to quit singing about her $ex tape because it could lead young ladies who look up to her as a role model to engage in such dishonorable behavior.
Still speaking in the Tiwa Savage "Loaded" music video, Kemi Olunloyo advised her to remember she has a son.
Kemi Olunloyo tweeted; "TIWA SAVAGE's NEW SONG: 🎶sex tape o le baye mi je (sex tape can't spoil my life), igadun kekere yen (that small enjoyment)🎶 BUT IT CAN INFLUENCE YOUNG GIRLS TIWA. STOP SINGING ABOUT IT #ChrislandScandal You have a son‼️"
See her post below;
Using Tiwa Savage son, Jam Jam as an example, Kemi Olunloyo added;

Jam Jam: "Play my mom's new song at your birthday party

CLASSMATES: Your mommy's small enjoyment $ex tape."
See screenshot of her post below;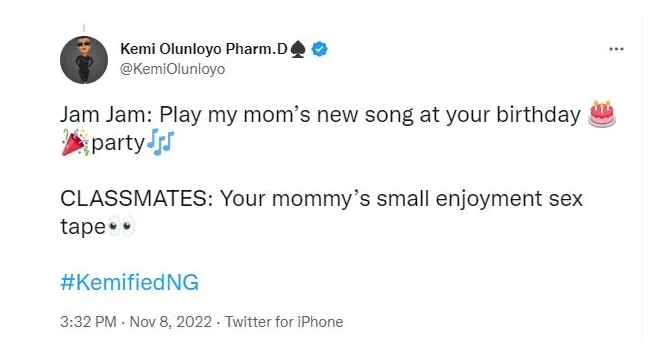 For further information and updates always visit dailygam.com
See Video below