Metro
Police officers take off their uniforms, As gunmen attack their checkpoint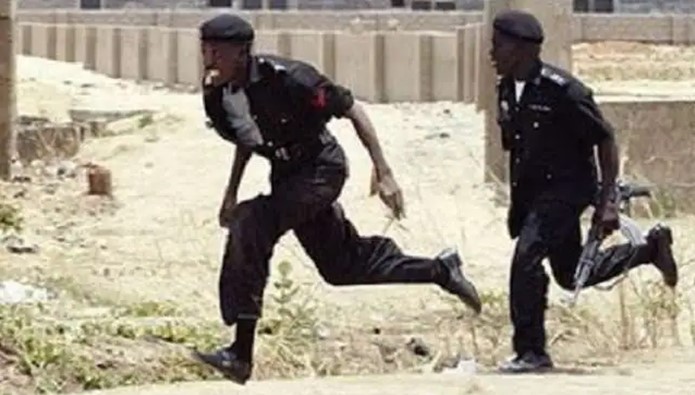 On Tuesday, unidentified gunmen stormed a police checkpoint in the Anambra state's Ihiala local government area.
Following the incident that sent police officers running from their posts, chaos erupted throughout the state.
The Daily Post reports that some locals are believed to have been shot dead and that others have been hurt.
According to reports, the incident took place along the Ihiala-Uli axis in the Ihiala LGA at around 10.30 in the morning.
Security personnel working the checkpoint reportedly took off their uniforms and hid in surrounding shrubs and accessible shelters.
The expressway connecting Onitsha and Owerri had been closed.
Commercial bus drivers have ceased operations along the route after the attack caused drivers and commuters to flee for their lives.
Regarding police matters, Olorunsogo Bamidele, a female officer, recently called out for justice after she was allegedly brutalized by ASP Ajayi Matthew, a senior officer.
She is an Inspector working for the Ode-Omu Divisional Command and the Osun State Police command.
Inspector Bamidele displayed her torn police uniform along with cuts, bruises, and other physical damage in a video that has been going viral online.
Because she declined the Divisional Crime Officer's overtures, the policewoman, who is married, accused him of sexual harassment.
In the video, the policewoman can be seen crying as she claims that he has been using his position to threaten, blackmail, and intimidate her into giving in to his advances for love.
Inspector Bamidele said; "He started beating me, to the extent that he naked me. Look at my chest, my hands, everywhere injured. Mr. Ajayi Mathew."
When asked why the senior colleague assaulted her, she said, "I don't know because he asked me out, that I should befriend him, I said no, I'm a married woman, I cannot befriend you. He started blackmailing me; saying he is the one befriending me, which is not true.
"My right hand was there. Two Constables and 10 civilians; after doing that, he went inside and carried a dane gun and said he wanted to gun me down. The civilians had to take me out of the office and said I should run away but I said no. If he wants to kill me, he should kill me. Help me. Assist me. Ajayi wants to kill me. Ode-Omu Division."
For further information and updates always visit dailygam.com