Metro
Cab driver drops off his girlfriend in a park without realizing she was on her way to her wedding.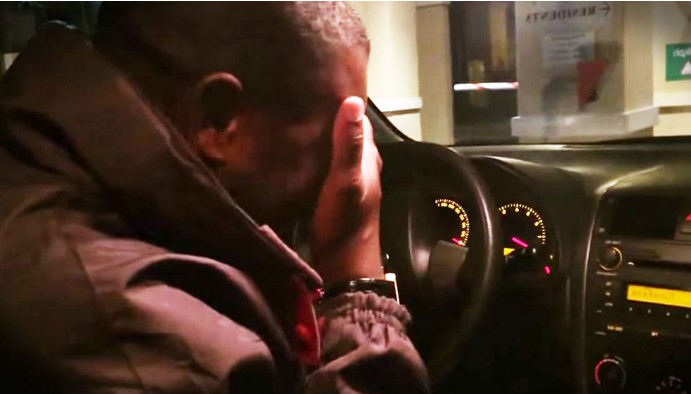 An Uber driver's heart has been broken after learning that his girlfriend was getting married just days after the last time he saw her.
He allegedly drove her to the parking lot on a Tuesday because she was leaving on a trip, but he had no idea she was going to her wedding.
The cab driver later found out that she was getting married on Saturday, the wedding day.
According to a Twitter user @cassy_collins_, who shared the story, the man was crying while narrating what happened to her.
She tweeted; "My Uber driver started crying this afternoon on the trip because his babe of 3 years that he dropped at the car park on Tuesday got married to someone else on Saturday. You people need to stop destroying others like this, it's too wicked abeg."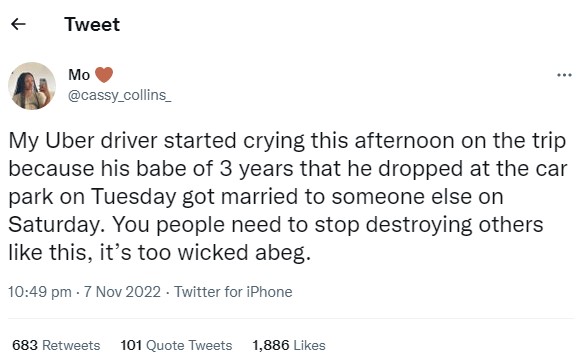 Reacting, @okeken53 wrote; If u cannot be committed n faithful to your partner while not break up and tell him/her. The way dey move on without explanation n no remorse is disheartening. Is worth going to jail abeg for jst 2 months. Tell him or her u know do again on time b4 carrying out ur evil plan. 😤
@TooshModels; Men are not as heartless as Women, Men Just don't talk about their bad experiences with women. They absorb the hurt and Move on, Unlike women crying 'Men are Scum' everywhere.
According to Twitter user, @Abdullahiabba_, his buddie had attended the wedding of a close friend on Sunday, 16th of October 2022.
But when he got there, the guy found out that his girlfriend named Fatima is the person his pal was tying the knot with.
He had been dating Fatima for three years and reportedly intended to marry her, so he felt totally heartbroken seeing her as the bride at the nuptial occasion.
Taking to Twitter on October 17, @Abdullahiabba_, wrote; "Ladies will always disappoint you. This guy have been dating Fatima for the past 3 years with the intention of making her his wife just for him to attend his best friend matrimony yesterday and witness Fatima was the Bride. Never trust a lady."
For further information and updates always visit dailygam.com