Entertainment
Nigeria: Peggy Ovire, my husband and crown, writes a loving note to Freddie Leonard as he presents her with a beautiful bag.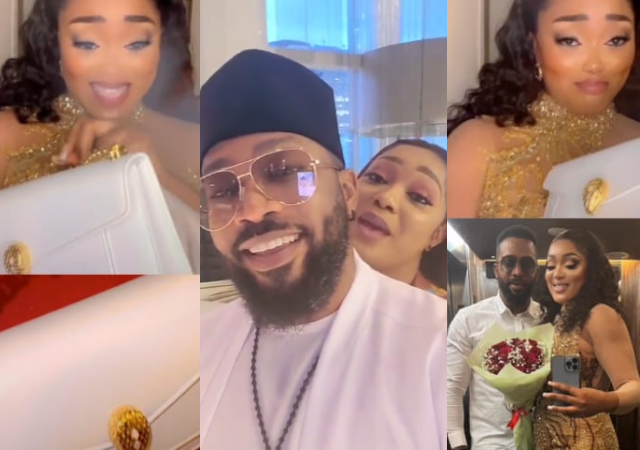 Due to their public displays of love and affection, Nollywood actresses Peggy Ovire and Frederick Leonard continue to make netizens drool.
On Friday, October 21st, Peggy's birthday, the love story was made public. Leonard took to Instagram, where he posted a photo of Peggy alongside a heartfelt message.
Peggy also responded positively. According to reports, the couple will tie the knot on November 17th.
Regardless, Peggy Ovire just released a video of herself unpacking a stunning Bvlgari purse she received from Freddie Leonard.
The lovely actress complemented the image with a heartfelt letter to Freddie, whom she referred to as her husband and crown.
In her words:
YOU WERE FIRST MY BEST FRIEND,

YOU ALWAYS SAID "PEGGY I'LL MAKE YOU A HAPPY WOMAN" KEEP PRAYING FOR ME.

I'LL GIVE YOU THE FINEST THINGS IN LIFE , "

I"LL LOVE YOU RIGHT,

EVERYDAY YOU COME THROUGH & YESTERDAY YOU GAVE ME A SHOCKER AGAIN LOL

I HAVE WATCHED YOU GROW,BLOSSOM & KEEP TO THOSE PROMISES.

IT'S NOT BEEN A ROSY ROAD ,

THIS MAN RIGHT HERE ! FOR THE FIRST TIME I DON'T KNOW WHAT TO SAY TO YOU 😌, BUT THANK YOU FOR LOVING THIS STUBBORN GIRL HOPELESSLY.

MAY GOD'S FAVOR NEVER DEPART FROM YOUR LIFE, MAY GOD MAKE HIS LIGHT TO SHINE ON YOU, MAY GOOD HEALTH,PROSPERITY,LONG LIFE BE YOURS IJN .AMEN 🙏

MY HUSBAND, THE CROWN ON MY HEAD @FREDDIELEONARD

CHEERS TO FOREVER 🥂

#MEETTHELEONARDS#MEETTHELEONARDS.
For further information and updates always visit dailygam.com
See post