Entertainment
Nkechi Blessing short of words as colleague, Bakare Zainab surprises her with big house cake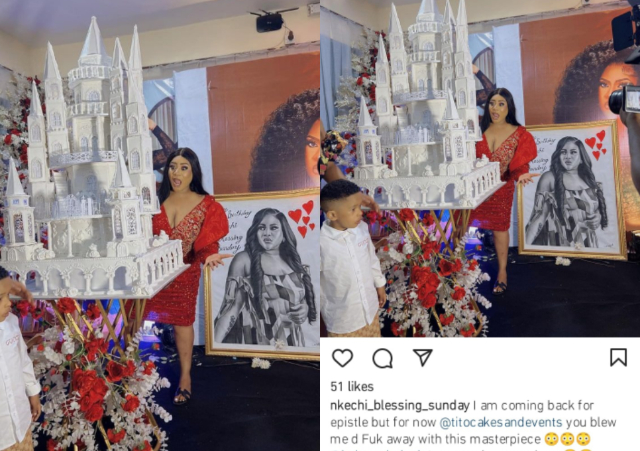 Prior to her big day, her coworker Bakare Zainab surprised her with a party. When Nkechi saw her thoughtful present, she was taken aback and started crying at the party.
Nkechi Blessing was seen bowing down in one of the videos to thank Bakare Zainab for the display of affection.
Nkechi Blessing posted pictures of her enormous birthday cake as an update.
The actress could be seen gazing in wonder at the building in the image she shared on her Instagram page.
She captioned it with, "I am coming back for epistle for now @titocalesandevents you blew me d Fuk away with this masterpiece @bakarezhainab I am coming ooooo Haaaa".
"Most ladies are not doing plastic surgery for men" – Nkechi Blessing reveals real reason women undergo BBL surgery
Nkechi Blessing, a contentious actress, has at long last disclosed the primary reason so many women get plastic surgery.
Numerous celebrities have voiced their ideas and stances on cosmetic surgery in the wake of the news of a woman who had died while undergoing an operation to improve her physical qualities.
Some people had condemned the practice, but others, like Nkechi Blessing, didn't appear to mind it.
The actress went on to say that many women who undergo surgery do so mostly for themselves because they want to look attractive and feel good about themselves, rather than for men.
She gave advice on how to lose weight for women, suggesting that they work out every day.
For more updates, always visit dailygam.com