Politics
PDP Crisis Will Be Solved, Governor Emmanuel Declares, and No One Will Be Ignored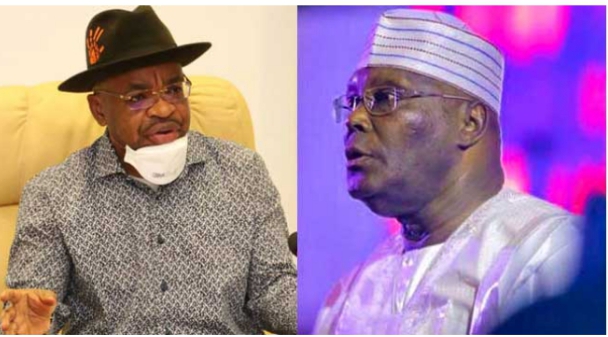 On Thursday, Akwa Ibom State Governor Udom Emmanuel said the party's problem will be handled despite growing calls for Iyorchia Ayu, the national chairman of the Peoples Democratic Party, to step down.
Governor Nyesom Wike of Rivers State and other "dissenting voices" within the party have the right to share their opinions, according to Emmanuel, who is the chairman of Atiku Abubakar's presidential campaign organization, and they won't be disregarded.
The Akwa Ibom governor claims that the party's differences are "not big mountains that are so tough to climb."
This company is run by a family. You all know Nyesom Wike is my brother. One thing I learned about politics and life is that people should endeavor to follow through on their commitments; otherwise, difficulties may arise. Let me stick to my word if I say I'll do anything in case A occurs. On Channels Television's Sunrise Daily, Emmanuel said, "Let me also keep to that if I say I will do B if C happens.
According to Channels Television, Wike's PDP faction announced its withdrawal from the campaign council early on Wednesday. They insisted that Ayu resign so that a southerner could take Ayu's place.
The group, which included current and past governors as well as ex-ministers, argued that neither the party's national chairman (Ayu) nor its presidential candidate (Atiku) could be from the north.
Atiku, a senator from Adamawa State, later said in a statement that he was unable to make a decision regarding the resignation of Ayu, a former senator from Benue State who is now traveling abroad for two weeks.
In addition, the former vice president of Nigeria from 1999 to 2007 urged Wike's supporters to "have a rethink, retrace their steps" and support his bid for the presidency in 2023.
Bode George, a former deputy national chairman of the PDP and a member of Wike's group, said on Channels Television's Politics Today program on Wednesday night that Ayu had pledged to step down if a northerner won the party's presidential primary in May 2022, but that he has since insisted on continuing to do so, angering Wike and his allies.
Speaking on Thursday, Emmanuel noted that while it might be legal for a leader to hold onto his position, it might also be wise for him to step down in the interests of peace.
"It's not about mentioning names; everyone has the freedom to express their opinions however they see fit. PDP is a household. I'm confident we'll find a solution, he remarked.
The South-South geopolitical zone's Wike and Emmanuel ran against Atiku in the presidential primaries in May, but the Adamawa-born candidate prevailed.
Regarding his Absence in Wike's Meeting.
Wike was referred to by Emmanuel as his "blood brother," and he promised that his complaints would not go unnoticed.
Don't worry about that now, Emmanuel stated while he was not there at the meeting in Port Harcourt where Wike's group announced its resignation from Atiku's campaign council. We frequently sensationalize events. We strive to fit people into our lifestyle, but it is impossible because we are all grown ups. We are aware of our own needs and what is best for us.
"Therefore, let individuals express their opinions, but don't ignore them either. If we want to win the elections in 2023, we cannot neglect anyone. We must go back and move everyone along because we cannot disregard anyone. Any voice of opposition will not be disregarded by us.
"You don't ignore problems and hope they go away. We won't neglect this one aspect. We'll attack it head-on and find a solution, he added.
For more information visit dailygam.com