Entertainment
Woman leaves her child at the salon and takes off her wedding ring before going to her ex to get money.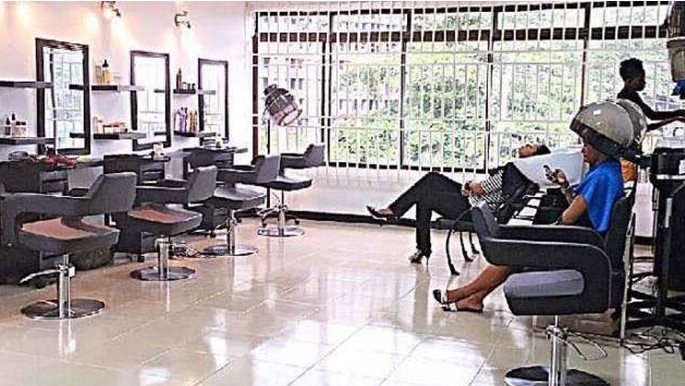 Josephine, a Nigerian woman, described what a married woman did to try and get money from her ex, which prompted suspicions.
She disclosed that the mother had taken her infant to a salon, left it there, and planned to pick it up later.
She had to show herself as a single woman because her ex-boyfriend allegedly promised her N100,000 but didn't know she was married.
The married woman, according to Josephine, took off her wedding band in the salon because she did not want her ex to find out she is married.
The narrator, who works as a promoter for salons in the region, claimed that the woman's behavior shocked her.
She wrote; "So 1 woman came to drop her baby with her friend in the salon then removed her ring.She said her ex asked her to come and collect 100k that he doesn't know she's married 😳 I was so shocked ."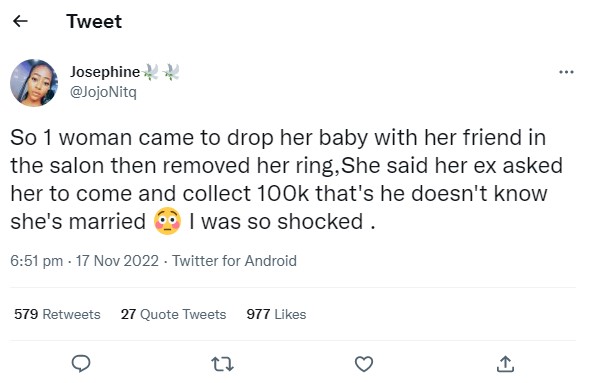 In reaction, @othamm; Take 23hour 60minutes to fear woman
@agbidi_charles; We suppose to dey celebrate "happy fear women's day"
@MrBayo_BY; And you think she's going to come out Scott free after 100k 😏 Bae shey you dey whine mhi ni😂
@Ayidolad; With the way things are going …we will invent a day in a year "WORLD WOMEN FEARING DAY" with fasting and prayer.
@onyibrowny; Wonders! Can we allow ex to be ex and face front?
For further information and updates always visit dailygam.com