Metro
A brilliant Nigerian man who worked as a local tailor for seven years goes global, earning a Masters degree in Fashion from a UK university.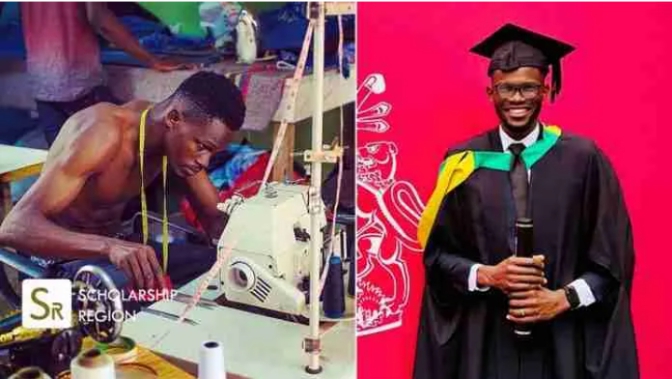 Gbenga Lloyd Adesanya, a brilliant Nigerian man, graduated with honors from Nottingham Trent University in Nottingham, United Kingdom, after working as a local tailor in Nigeria for over 7 years.
Gbenga, who recently lost his father, was known to have worked hard as a local tailor for 7 years, establishing himself as an expert fashion designer in Sagamu, South-West, Nigeria.
Michael Adesanya, Gbenga's brother, took to LinkedIn to congratulate him on his achievement. "Gbenga Lloyd Adesanya – from Lagos Island's master of local fashion hustle to a Masters in International Fashion Management from Nottingham Trent University," Michael wrote on his profile.
Michael went on to say that his brother, Gbenga, who now has a Masters degree in International Fashion Management, has overcome many obstacles in his life. Gbenga, he claims, escaped death when he was young.
"Gbenga, thank you for surviving as a still born, thank you writing JAMB 4 times, thank you for being a dedicated local tailor for 7 years," Micheal wrote about Gbenga.
For further information and update always visit dailygam.com