Metro
Amusan receives the OON Award as President Buhari honors Nigerian athletes.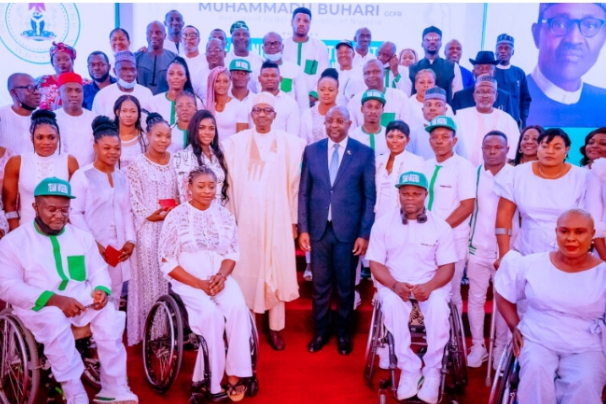 Buhari Honours Nigerian Athletes-Tobi Amusan, the reigning track and field world champion, received the Officer of the Order of the Niger (OON) honor on Thursday as President Muhammadu Buhari recognized the nation's athletes for their outstanding efforts in various tournaments.
The Commander-in-Chief spent N200 million during the event he presided over to support Team Nigeria delegations to the 2022 Commonwealth Games and World Athletics Championships. He also presented them with national honors.
Speaking to the athletes in the Banquet Hall of the State House in Abuja, Buhari declared that his administration is dedicated to recognizing excellence, especially for those members of Team Nigeria who sparked the national spirit of victory with outstanding performances at international competitions.
The President was quoted as stating in a statement released by his media assistant, Femi Adesina, "Your great results in recent times are congruent with the determination of a nation always striving for excellent performance."
He praised the athletes for proudly representing Nigeria in nine athletic events, calling them champions, deserving ambassadors, national heroes, and heroines.
"I witnessed those thrilling moments with millions of Nigerians when you all made us and our homes happy by shattering world, national, and game records as well as reaching personal bests in your careers."
Members of Team Nigeria, you have all inspired our country to strive for victory, but even more so, you have triumphed in important competitions and sporting events.
"I have closely watched your accomplishments at the World Championships in Oregon, USA, as well as your outstanding performance at the recently finished Commonwealth Games in Birmingham, UK.
"And I am extremely happy that you showed amazing sports talent at both the individual and group levels and produced for your nation wonderful podium performances," she continued.
The athletes' moment of sporting success, according to Buhari, "brought the world's attention to Nigeria," and their accomplishments have contributed significantly to the country's good reputation.
The National Anthem was sung while our green, white, and green national flag was raised twelve times, he continued. We succeeded in getting to the podium 35 times. You all Team Nigeria made that possible.
"You elevated our nation's standing and honor. And today, I say "Thank You!" on behalf of the country.
For more information update on metro news always visit dailygam.com