World Cup
After winning the World Cup, Messi vows he'll keep representing Argentina.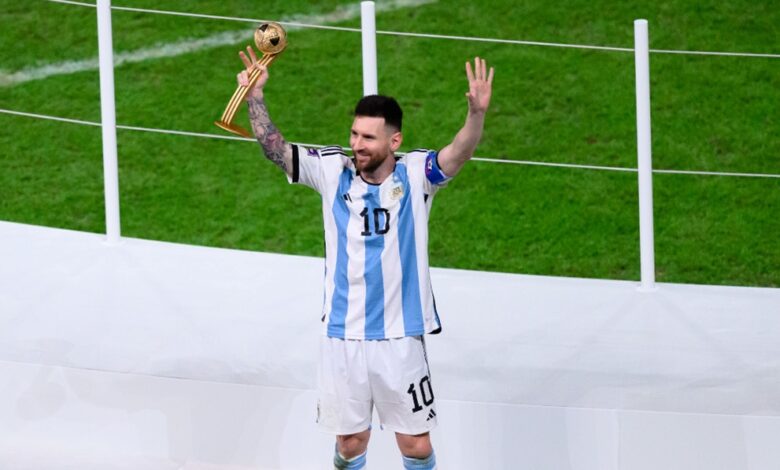 On Sunday, Argentina's Lionel Messi promised to keep representing his nation even after achieving his lifelong goal of winning the World Cup.
"I want to keep experiencing a few more matches as world champion," Messi, 35, told Argentine television following the country's epic penalty shoot-out victory over France in the World Cup final in Doha.
However, after the Argentina captain won the one significant international title that was missing from his collection, Messi acknowledged that his career was practically over.
Prior to the seven-time Ballon d'Or winner scoring his penalty shot in the shootout that Argentina won 4-2, the Paris Saint-Germain front scored two goals in the dramatic and tumultuous final that ended 3-3 after 120 riveting minutes.
"Obviously I would like to end my career with this, I cannot ask for more," said Messi.

"My career is nearly over because these are my last years."
And Messi claimed he always felt his moment would come despite experiencing so many setbacks on the grandest platform in football, including losing the 2014 World Cup final to Germany in Brazil.
"It's crazy that it happened at the time it happened, but it's amazing," he said.
"It's amazing that it could end this way. I said previously that God was going to grant me this and I don't know why but I felt it was going to be this time."
After Argentina lost a two-goal lead late in the game for the second time, following their quarterfinal victory over the Netherlands a week earlier, Messi turned his attention to the game itself.
Argentina was leading 2-0 at the half and 3-2 during extra time, but Kylian Mbappe's hat-trick of goals—two in the dying seconds of regulation and one in the extra time—pinned Argentina back and forced penalties.
"It was a very strange match, the same as the other one against the Netherlands, and then when we went ahead in extra-time it happened again," said Messi.

But, he added, the World Cup trophy "is beautiful."
Following the game, Lionel Scaloni, winger Angel Di Maria, who scored Argentina's second goal, and goalkeeper Emiliano Martinez all broke down in tears as Messi hugged his family and teammates.
Since his debut in 2005, Messi has appeared 172 times for Argentina and scored 98 goals.
For more updates, always visit dailygam.com