Metro
Father Christmas is sighted laboring at a construction site, prompting reactions in the GOSSIPEven Santa dey hustle for daily 2k (Video)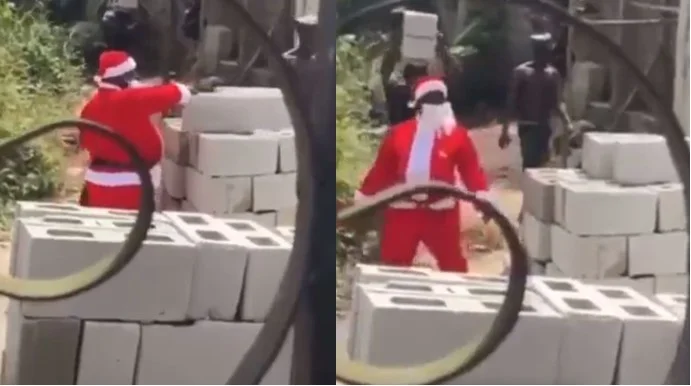 Santa Claus, also known as Father Christmas, is famous for giving gifts to children during the Christmas season, but that does not imply he is limited to those endeavors.
On videotape, an African man playing the character of Santa Claus is seen working on a construction site.
He might be seen wearing the renowned red and white uniform, joining workers to carry bricks.
However, his ineptitude while performing unskilled labor made internet users giggle hysterically.
Santa was walking to the spot where he was supposed to drop a moulded block when he slipped and fell, shattering the block into pieces.
I don't know what presents Santa been giving y'all, but he's a hustler back here in my country. pic.twitter.com/kfwnDQfd2p

— Divinito (@Divinito_) December 14, 2022
Netizens responded by praising the clip's humor and expressing surprise.
@DaBigBee12; He has to pay for that.
@skinnertmd; Santa Kayayo😂😂😂😂 broke Santa
@Lazlo_DC; Santa gotta eat
@KingTowdah; What the heck😂 Guy!😂
@Innosaint04; Damn this is wrong
@VerShon13; Adey die😂😂😂
@Olu_Leye; Santa don fall don 🤣🤣
@QCandPR; Even santa dey go hustle for hin daily 2k. Abeg no bill me this Xmas
Nigerians' attention was piqued when a different Santa in a separate area disclosed his nationality.
A touching moment when two Nigerian men met while one was serving as Santa Claus abroad is captured in a viral video that has gone viral online.
When a fellow Nigerian entered the tent he was seated in and welcomed him in Pidgin, the Santa Claus was having a Christmas meet and greet with families abroad.
He was about to say "Merry Christmas" in a foreign accent, but when he heard the man say "Area How far na," he quickly changed his mind and said the same thing.
As well as claiming that everything was going smoothly, the Father Christmas claimed that he is a fan of Peter Obi and a part of the Obidient diaspora community.
@ill_nojie wrote; Na former bank manager be that o😂
@Odogwu_Nomso; Father Christmas in the Snow >>> Access Bank Manager sadly. He is even Obidient which supercedes everything 🙂😉
@ValentineKelec9; This same thing happened when I went it write IETLS exams in Bremen. The black guy was just shouting and shouting, came to my table and said "Oboy, how you dey now" I burst laugh.
@alexlobaloba; Nah one of those GTbank branch managers wey japa this year be that. 🏃‍♂️
@deshotcaller; Is it the I'm Obidient or the switch to pidgin. Omo we don go far. 😂 ❤️
@WestsydeBwoi; Area hafa na…Merry Chris……ehhhhhhh which one na, nothing dey happen… I don laugh die
@janefranc; He's probably volunteering as Santa for a church or community program.
For more update, always visit dailygam.com