Entertainment
Halima Abubakar reveals their relationship with evidence and says, "Apostle Suleman proposed to me seven times." [Video]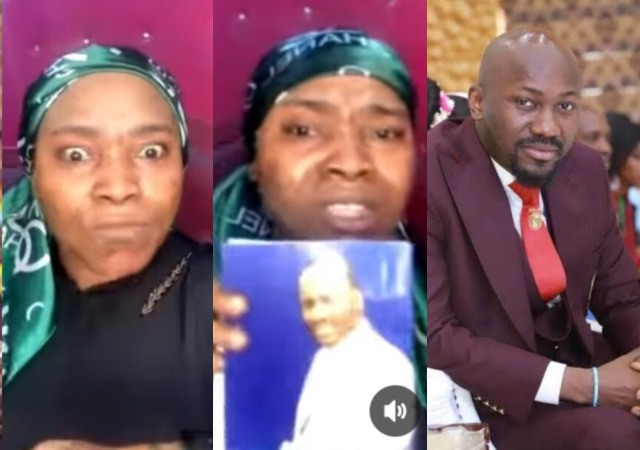 Halima Abubakar, a Nollywood actress, has finally spoken out about her relationship with Apostle Johnson Suleman of the Omega Fire Ministry, a preacher.
The actress recently opened up about their relationship in an interview, appearing to be unconcerned by the clergyman's lawsuit against her.
Halima disclosed that she had received a phone call from Apostle Suleman asking her to be his friend. After four months of communication, he sent her 500,000 to indicate that he was serious about their relationship.
Suleman informed the ill actress that he was separated, but she insisted she had no idea he was married. Halima reportedly disclosed that despite her repeated requests for him to make amends with his wife, he resisted every time.
According to Halima, Apostle Suleman asked her out seven times, but she always said no. He did an introduction with her and, unconcerned by the rejection, included the actress' parents in their romance.
"Apostle Suleman first reached out to me on the phone to be his friend, we got talking for four months. One day he wired me N500000 to show he was serious and I saw him two weeks after that. I did not know he was married. He told me he was separated. I used to beg him to go and settle with his wife but he said No. He proposed to me more than seven times. He involved my parents and met them for introduction. I never knew he was a Pastor".
Speaking about their sexual lives, Halima disclosed that she had noticed that every time they had sex, she would always bleed; however, because she was not spiritual, she did not see this as having any significance.
"Every time I had intercourse with Suleman. I used to bleed afterwards. It got to a time I started bleeding everyday and I had a bloated tummy. The blood never stopped and he was still having sex*x with me like that. I didn't read any meaning to it because I wasn't a spiritual person and he used to have sex with me during my period so I thought it was normal.
Halima revealed previous pictures of the minister that she had taken on Valentine's Day while staying in a hotel as evidence. She chastised media figure Daddy Freeze for setting up camp with his friend Suleman.
When their love was strong, Halima said she got a tattoo of his name on her hand, and he had calmed her down when she found out he was married.
"I had a tattoo of Suleman's name of my hand when the going was good. He never told me he was a pastor. He told me he was a motivational speaker and then a Sunday School teacher. When I later got to know, I asked him if he knew what we were doing was wrong, he said I AM HUMAN".
This occurs shortly after Apostle Suleman accuses her of violating the law.
For more updates, always visit daily gam.com