Global News
Meet the First Muslim Woman Pilot in Jamaica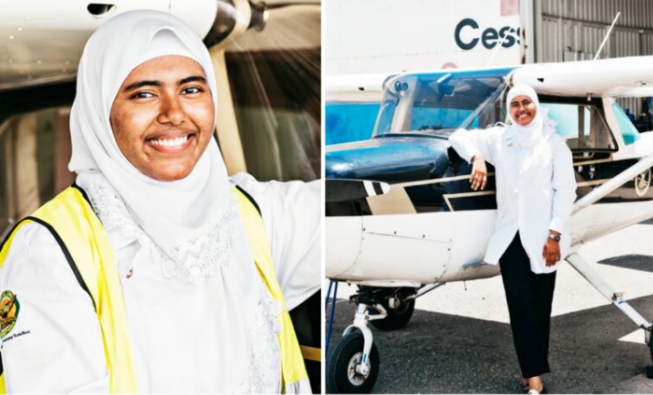 Hassanah Al-Saba became the first Muslim woman to obtain a pilot's license in Jamaica after receiving her license.
The 22-year-old reports that it took her a while to adjust to the fact that she is being honored both at home and abroad.
The simple act of flying and loving the different flights she has experienced throughout her life served as Hassanah's inspiration for becoming a pilot. She enjoyed the sensation of rising into the air upon takeoff while traveling by plane to see her grandparents in Trinidad.
On August 25, Hassanah passed her flight test, and on August 29, she was granted her license. She was finally able to hold the license in her palm, which served as proof that all of her efforts had paid off and the first stage of realizing her airline goal had been reached.
The next item on Hassanah's agenda was getting her commercial license. She will keep moving forward until she realizes her dream of working as an airline pilot.
from her own words
"I found it hard to comprehend that I was appearing on TV and in the newspaper. But now that it has, I sincerely hope that I have motivated others to live up to our motto, "Out of Many, One People." As a proud Jamaican, I want to inspire my people by demonstrating that goals are attainable.
"Ever since then, I have been fixated on the sky, and my fascination with airplanes has grown. I enjoy gazing out at the stunning scenery. I appreciate that flying allows me to take in the beautiful scenery because nature is so amazing. I feel somewhat liberated when I fly. I can ascend into the air and leave my concerns below. There is just me and the clouds. I would want to express my gratitude to the Aeronautical School of the West Indies for providing me with A1 flight instruction and treating me with the utmost respect. Additionally, I want to thank Richard Gordon, Sheldon Irons, Gari-Paul Tomlinson, and Christopher Gooding for supporting me and my ambition.
For more news, information and updates always visit dailygam.com