World Cup
Ronaldo crying is the enduring picture of Portugal's World Cup disaster.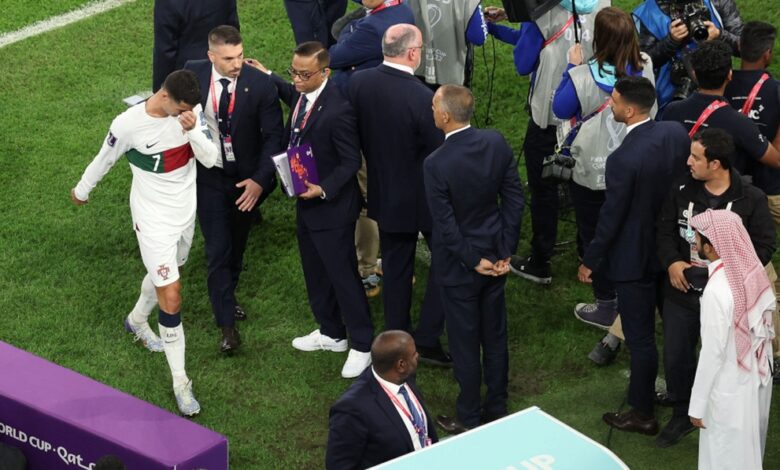 For Portugal fans, their enduring memory of the World Cup in Qatar will be of Cristiano Ronaldo crying and looking as dejected as the football world has ever seen him.
The five-time Ballon d'Or winner Ronaldo came with the intention of demonstrating his continued relevance. He didn't make a difference as a substitute in his team's 1-0 quarterfinal loss to Morocco, and he finished the tournament on the bench.
Ronaldo, who was competing in his sixth World Cup and hoped it would position him for fresh options after his departure from Manchester United, saw another narrative of promise turned to disappointment, controversy, and underachievement on the largest platform.
Ronaldo is accustomed to being the center of attention for Portugal.
He is one of the all-time great forwards, and because of his immense stature, his nation's sporting expectations have been heightened.
Ironically, Ronaldo was a victim of Fernando Santos's wealth of alternatives despite Portugal having a team full of outstanding players.
In Tuesday's 6-1 victory over Switzerland, Portugal's all-time leading scorer Cristiano Ronaldo, who has 118 goals in 195 games, sat the game out while the 21-year-old Goncalo Ramos scored a hat trick in just his fourth international match.
He didn't play against Morocco and left the competition as the symbol of a fresh international disaster for his nation.
It is difficult to believe that Ronaldo's dramatic TV interview had no effect on the team, even though his coach and teammates denied that his disagreements with Manchester United soon before the World Cup caused a distraction in the locker room.
After the defeat against Morocco, coach Santos stated that he does not regret leaving Ronaldo on the bench and frequently emphasized that his choices were tactical, which prompted speculation as to whether Ronaldo's illustrious career was about to come to a tragic end.
Ronaldo refused to declare that the World Cup in Qatar would be his final competition before to the event and was already considering the 2024 European Championship.
The 37-year-old is not yet expected to retire, but it is unclear what his future holds given reports in the Spanish and English media that he is close to joining Saudi Arabian team Al Nassr on a stunning 173 million pound ($211.65 million) a year contract.
Santos also refuted rumors that he was leaving his position and said he would discuss his future with the head of the Portuguese FA.
Portugal has a strong generation of talent, including outstanding players in their prime like Bruno Fernandes and Bernardo Silva, as well as young players like Ramos and Joao Felix. With or without Ronaldo, Portugal's future at least appears bright.
For more updates, always visit dailygam.com