Metro
Strange creature with human body and animal head mysteriously lands on roof (Video)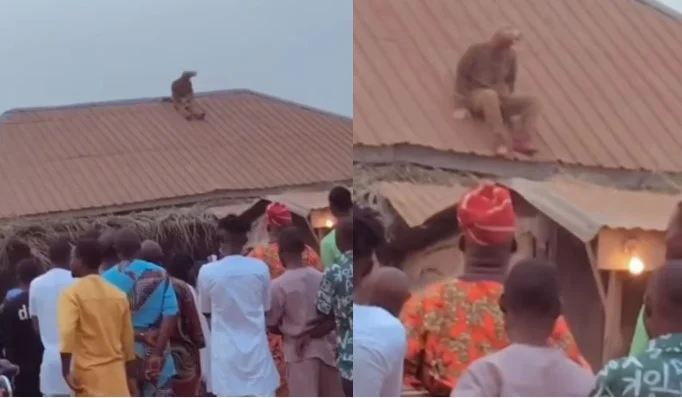 A bizarre creature mysteriously crashed landed on a building's roof, and residents of the area poured out in large numbers.
The creature featured an unidentifiable animal head on top of a human torso with hands and legs.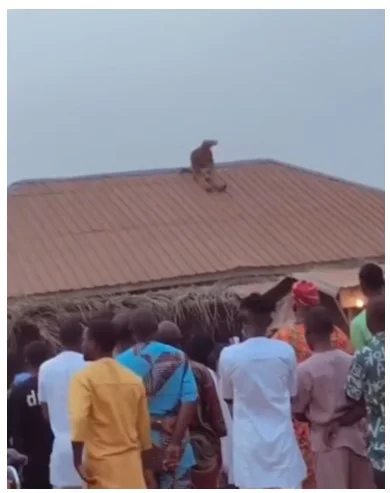 At the structure where it fell, a throng had formed, and they continued to marvel as it travelled across the roof.
It appeared to be having a fit of grief as it slid down the roof before leaping into the enclosure, which had a fence.
Social media users expressed doubt that it was an actual inhuman creature.
pkgjohnson commented; African Halloween lol
kizitoanthonyoforka; Lol😂…na wear the guy wear that this jorh
drealolly; I don't believe this 😂😂 because I trust that a few people would have ran away the way the think kept sliding down 😂😒
vibewitheliyon; Na only for all these villages you go see something like this
tha_mentalist; Na egungun be that wey don trabaye
chriskryse; some mumu for there go don dey reason how dem go take catch am "go chop" …
chris_studio6_weddngs; Why you no go close and get a clear video, day here day give us script
For more updates, always visit dailygam.com