Metro
A girl fainted after three men perpetrated a ritualist prank on her in a hotel.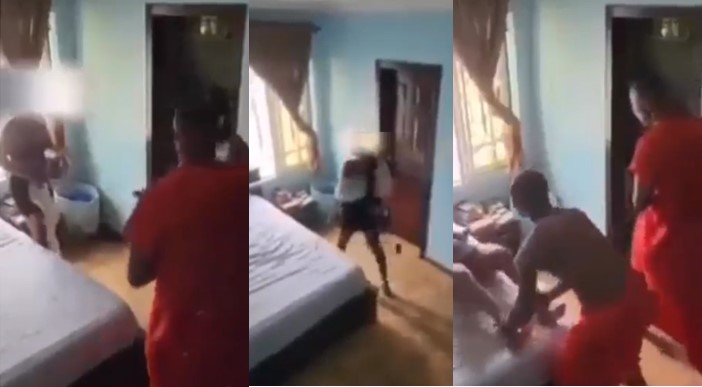 A group of men who invited a young lady who works in the body trade to a hotel played a ritualist prank on her.
According to reports, one of the men bargained with her to have a good time, and the price was set at N15k, after which she was provided the location.
The moment she entered the hotel room to meet her client was filmed on a hidden camera.
The first thing they did was drag a purportedly lifeless body from the bathroom, which startled her.
A few moments later, two men dressed in crimson cloth arrived with some unknown objects.
When she saw them, she sprang in terror and began screaming the name of Jesus. But they grabbed her, pinned her to the bed, and pretended to use her for money rituals.
Unfortunately, the girl fell, causing the men to fear, and their attempts to wake her up were futile.
One of the males could be seen touching her on the shoulder and saying it was a joke, but she refused to wake up. They then dumped a pail of water on her, and she returned.
The running girl was then informed that it was a joke, and she yelled at them, claiming she did not enjoy such terrifying activities.
For more information always visit dailygam.com
Watch the video below:
Continuation.

The Second Lady should have completely smash his head. Next time they'd learn their lessons pic.twitter.com/Ue4hTs08RB

— Abel (@Abelpter) November 27, 2022