Metro
A graduate at last – During signing out, the young man is blessed by his father and showered with money.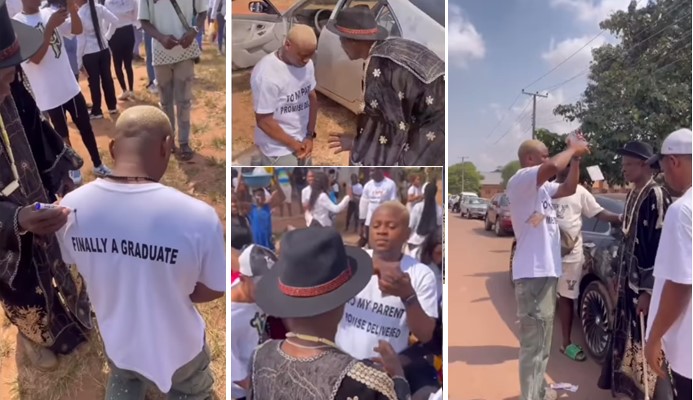 A Nigerian big lad who had just finished his final exams at university celebrated with his father, who was there at his signing out.
The old guy arrived in traditional garb to support his son, who was signing out with course mates.
The graduating student bowed to accept his father's blessings, following which the guy signed his shirt, which featured a snappy write-up.
He placed them on the front and back of his shirt to inform his parents that he had completed his pledge to graduate.
"To my parents, a promise was delivered. finally a graduate", the inscription on the student's shirt read.
The child was seen making money fall on his elderly father in a video that was becoming viral online as other classmates tried to grab the cash.
Another section revealed how he made the decision to accompany his father to a location where only he would receive financial favors. His pals assisted him in accomplishing this.
For further information and updates always visit dailygam.com
Watch the video below: