Entertainment
As her partner spends N815k on her groceries, Caramel Plugg jokes, "Go shopping with your man (Video)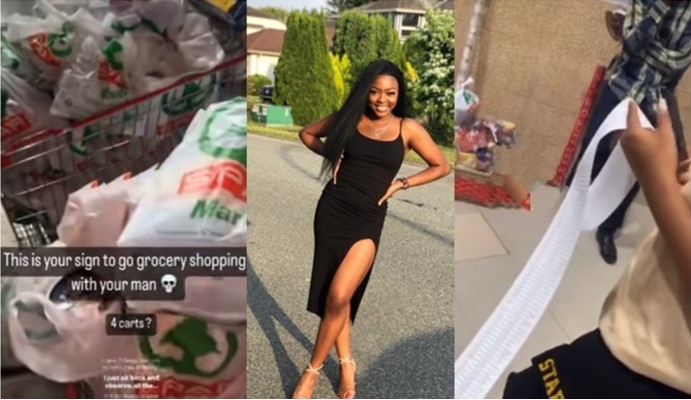 Nigerian comedian Caramel Plugg has suggested that women go grocery shopping with their partners so that they can be lavished with a plentiful supply of food.
She delivered the advice while demonstrating all the products her boyfriend had purchased for her at the grocery store using herself as a case study.
Caramel submitted receipts showing that the items they purchased filled four trolleys and totaled N815,000.
The producer of the content claims that the cash showered on her is sufficient proof that women should go grocery shopping with their husbands.
Reacting, iam_krisjoe said; Lol, if u have a partner that really spends on u, u won't find d need to validate anything on social media. Real ballers dnt make noise
u_saviour; No single issue with this at all. I strongly believe if you love your partner, spending shouldn't be an issue in anyways irrespective of gender. But i really hope this guy spends on his parents like this too sha. More years to your relationship tho.
onyekacchii; Some ladies now will be pressured!! Pressed! And will now be questioning their selves!! Reasons Why I never liked social media!!
dvclothing234; Congrats on your shopping. No be everybody get 800K to do shopping. Let everyone do what they can.
amyskitchenandtreats; You people need to tell us the name of the JUNCTION wet una dey see this Men 🙏🙏🙏🥺🥺🥺🥺
thefixerlawyer; Your man is rich oo. Your relationship is really blossoming omo! Una go need court marriage oo, Oga madam! Abeg come make I run am sharply🙌
mo_billionz; Poverty mentality, with a grab-it-all mindset. If you really term it grocery shopping, then what groceries are you buying for 800k? 1 year supply? Most of those items have shelve lives and expiry dates. That's why normal people do grocery shopping monthly and some even do theirs biweekly. No be everything be for cruise. Make una try dey apply una upper sometimes.
teeh_lyfstyle; Nothing Concern me na make I see food chop be my own 🙂
nene_george; If he likes he should buy you the world, we still don't care. Move on let's focus on something more important
e.ll.ae; Some people don carry this post share to their struggling boyfriends. Aunty be calming down make you no go rush yourself comot for relationship before Valentine.
For more updates, always visit dailygam.com