Entertainment
After being smacked and threatened by DJ Chicken, an Instagram comedian sobs (Watch video)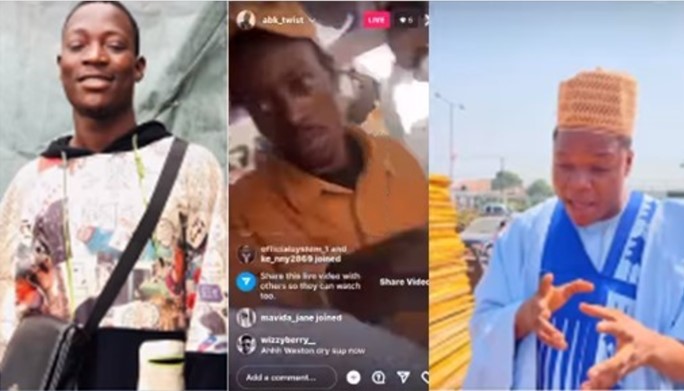 Abk Twist, a Nigerian comedian on Instagram, has cried out for justice after being beaten by DJ Chicken, a contentious artist.
Ak used Instagram live to record a violent argument with Chicken, who then unprovokedly smacked him.
The creator of the skit could be heard questioning the internet sensation if they are acquainted in any way and why he would touch him.
He explained that DJ Chicken simply approached him and slapped him in the face after a friend had invited him to the location where he was sitting.
Despite his protests, Chicken continued to intimidate him, demanding to know where he belonged—claiming to be a prominent figure of authority and influence in Lekki, Lagos.
"Na me get Lekki oh, no dey do anyhow," Chicken said repeatedly.
See reactions below;
tee_with_vibes; And you Dey stand preach. Clap for yourself
official_ola_btc; He don see say d guy na Mumu no jare 😮😮 person slap u, u con Dey do live video
harde_niyi_01; Person way you suppose give better slap….. you dey explain 😂😂
priscillia_oluchi_; Your fellow man slap you, you carry phone begin record. If na woman now, all the Veins wey go comot your head alone go reach wire a whole building. 😒
only_one_gb; Man to man fight.. you Dey do live video.As you no get power,go station make you go report. Nothing we online viewers go do bros.
sweetylyx_official; Y'all just wanna trend we know this 😂😂this year we go wise pass Una
melcarsson_1; Person slap you.. the person no Dey ground you dey do "you sabi me before?" Na why I like Port Harcourt, More action less talk
parker_ojugo; Dj chicken no sabi trend make he humble himself collect some past questions from portable on how to trend
_allvixtor; Them slap u you self carry phone Dey go on live say Wetin happen make online judge the matter abi ? 😂😂😂 omo THIS IS WHAT SOCIAL MEDIA HAVE TURNED US TO ANY SMALL THING SOCIAL MEDIA MUST HEAR AM OMO MAKE UNA F OFF BS
man_like_otago627; No try am with me, when you don already chop slap
n_a_ms_bj; Werey ni BOBO djchicken He sha won use one stupid thing trend but e no possible SALO na your boss , accept salo as your boss
baff_ups__designs; The same way portable makes us know the chicken, blike this one don pay for class to blow
sparrowlion_; How much them pay you for this post????
comment_cop12; You Dey come live when person slap you eran ni eee, you know fit rush am with punch make people Dey make videos.
For more updates, always visit dailygam.com