Entertainment
At a birthday photo shoot, James Brown channels Beyoncé as "Queen of Africow" [Video]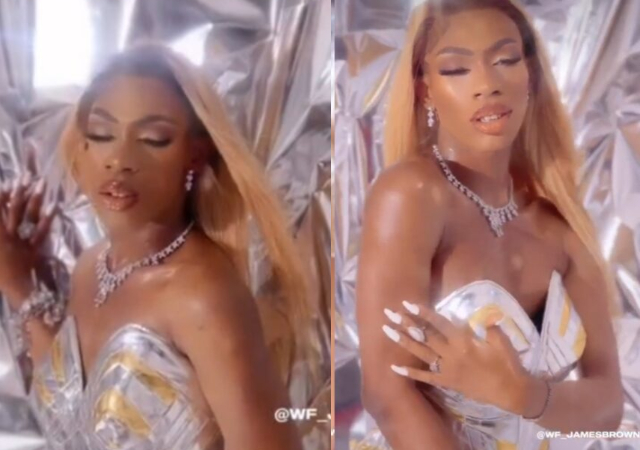 In his birthday shot, well-known crossdresser James Brown channels his inner Beyonce.
The crossdresser, who turns 21 today, February 21, released a video of himself dressed in the metallic attire made famous by Beyoncé, the Queen of Music.
Beyonce's song Break my Soul from the Renaissance album was also playing in the background while the transvestite performed.
James Brown ushered in his new era and proclaimed it to be the best time ever.
"WELCOME TO THE GOLDEN ERA. HAPPY BIRTHDAY TO THE QUEEN OF AFRICOWWWWWWWWWW".
Recall that James Brown just shared his resolution for the new year.
The content creator stated on his Instagram profile that his goal for this year is to hang out with celebrities like Kim Kardashian, Naomi Campbell, Chris Brown, Drake, and Wizkid.
James Brown uploaded a throwback video of the internet sensation that first made him famous as he looked back on his life before fame. Remember how James Brown rose to fame after a video of him using poor grammar while attempting to defend his innocence after being arrested went viral?
Expressing gratitude to his fans, James Brown wrote,
"I want to thank God almighty for every moment, every second, every breath because a Nation come against me but now All want me, love me, appreciate me and watch me because I out a smile and laughter on their faces due to the fact that a lot of people are going through ALOT and my experience of Alot is what Alot of men can die through…. I want to use this platform to THANK GOD ALMIGHTY and everyone lover. Every moment of James Brown I put to their Faces… SPECIAL THANKS TO MY NATION (NIGERIA). My new aim for 2023 is THE GLOBE. Chilling with Kim Kardashian, Naomi Campbell, Drake, Nikita Dragon, the love of my life. Chris Brown and my crush Wizkid with my big Auntie Tiwa Sav@ge thank to my late Queen Mother her Royal Majesty, Queen Elizabeth".
For more updates, always visit dailygam.com