Entertainment
Bisola of BBN responds to a vintage footage of her interviewing Davido that reappears online, saying, "See my long neck." [Watch]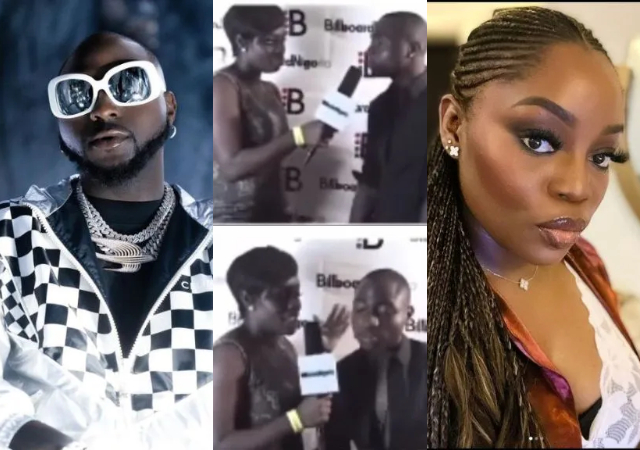 An old video of Bisola Aiyeola, a 2017 BBNaija ex-housemate, interviewing Afrobeats artist Davido on the red carpet has surfaced online and, as a result, won the hearts of many, including Bisola.
In the popular retro video, host Bisola is seen speaking with musician Davido at an Ice-Prince album lunch in 2011.
Davido says in the interview that he is delighted to be attending the Ice Prince album lunch because Ice Prince was one of the very first individuals he met after returning to Nigeria from the United States of America.
Davido also mentions in the interview with Bisola that he recently launched a new song called "Dami Duro," which eventually became a great smash and was warmly received by music fans.
When describing the circumstances at the time in 2011, Bisola wrote:
"About 30 billion people have sent me this video 😂😂😂😂 See my long neck😂😂 and back then I used to think I was Fat 🤦🏾‍♀️. This video was actually in 2011 when I was the host of BillBoard Nigeria which aired on STV. Fun fact, I had met Davido 2 years prior when I was interviewing his cousin NPZ ,Leyla was about 6months old then and David was soo cool. So when he saw me on the red carpet at ice princes album launch, he remembered me and obliged me and even asked after Leyla which he still does if I run into him at any event .

Not very many celebrities agreed to be interviewed by me, I was sad but I understand better now. Even me gan dey run from red carpet lol 😂 Biko no vex if I lie that I'm coming back to do interview ooo( I still oblige red carpet hosts oo). Alrighty people Keep celebrating @davido and my humble self because e don tey, No be today. We have definitely grown and it's all by the special Grace of God. Peace and love guys💋💋💋💋."
Watch the video below to see how the public responds to her interview with Davido in the past.
thedorathybachor: You later wash the hand abi you no wash am 😂.
deyemitheactor: So you never baff since then… Smh4u 😂.
hypedteens0: If you are DAVIDO fans gather here ❤️❤️❤️❤️❤️.
toolargemoney: Woah🙌🙌🙌🙌 consistently pays and there i was thinking BBN was d launch of 'Bisola the brand'. I ❤️ u even more now. Pls wear that crown well cos e don tey🙌🙌.
antonjeftha: Beautiful then..Beautiful now, beautifying with age my Sis🫶🏽🫶🏽🫶🏽🫶🏽.
dawgmanzini: This was the past that made me who I am today, thanks to the team back then, it was so much fun @iambisola.
iyalodeofabuja Aahh!: 30 billion people? Make una dey do small small. You no even talk 29 billion, you say 30 billion! I love your growth Bishops❤️.
For more updates, always visit dailygam.com
It truly has been a pleasure working with you, and I wish you and your embed Instagram code continued success." Traci M. Vacaville, CA Star Rating.