Entertainment
Daniel Regha, a social media expert and special adviser, calls Davido "childish."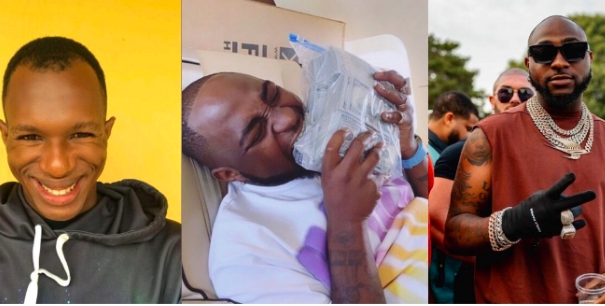 Popular Nigerian musician Davido, who is well-known for both his musical talent and philanthropy, has drawn the attention of social media consultant Daniel Regha.
Davido faced a lot of flak and criticism after posting a photo of himself eating into stacks of dollar bills. One of his detractors is the well-known Twitter commentator who attacked Davido on his account and referred to him as a childish power-seeker.
Davido constantly tries to establish his wealth in order to gain approval or validation, which is truly childish. Instead, he ought to start businesses, give money to charitable causes, and empower people especially young people. Davido appears wealthy but he reasons poor; poor according to Regha is flashy.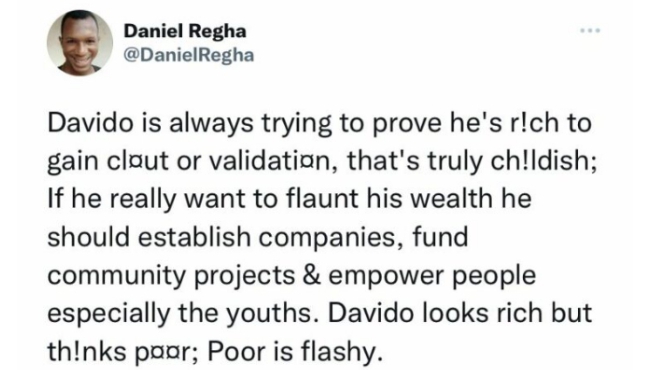 Daniel Regha has previously voiced his viewpoint towards Davido. He has been badgering Davido for the past few months over a gift the musician promised to a Twitter user and the $200,000,000 that was supposed to be distributed to orphans. He demands Davido to withdraw a thorough investigation into the use of the aforementioned monies.
Daniel is well-known for offering unsolicited advice to influential people and celebrities alike. He does not just follow Davido on Twitter. He recently gave Asake, a rapidly emerging musician, some advice.
"Asake sh¤uldn't release any new song till next year, that's the smart thing to do since his album is doing well. He should take time to up his pen game, so he can explore other music genres cos his songs sound al!ke; Fans are vibing to his sound now but may get tired of it soon"
For more information always visit dailygam.com