Entertainment
Davido pays Chioma's bride price in full at Ezeala Odu, Imo state [Photos and Video]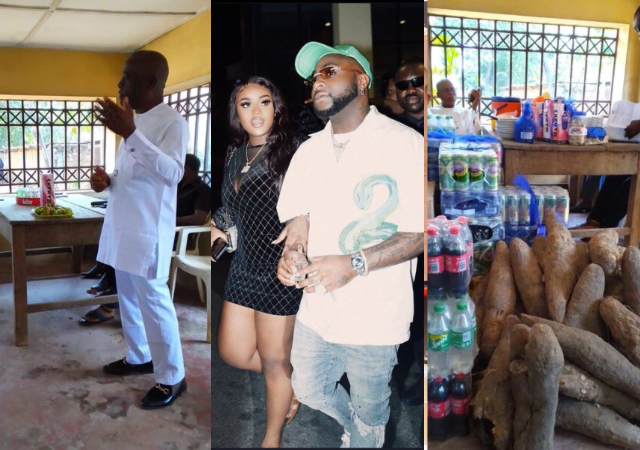 At Ezeala Odu, Imo state, singer Davido has completed the bride price (Umunna) payment for Chioma.
To the Umunna group in Owerre, Nkworji Ezeala ofu Nkwerre Local Government Area, Imo State, the artist has made complete payment.
Chioma's father may be seen completing the Umunna and Umuada ceremonies in pictures and videos that were uploaded online.
The Umunna rites, or gathering of the extended families of the bride and groom, mark the second stage of an Igbo wedding. This meeting is crucial because the groom's family must reiterate their desire to wed a member of the prospective bride's family in front of her Umunna (direct and extended family, with family elders).
Dates for the conventional wedding will be arranged after permission has been obtained, and the bride price list will be distributed.
The groom receives a few gifts, including a goat that will be split between the groom and bride's family as well as kola nuts, palm wine, beer, soft beverages, tobacco, and snuff.
Davido traditionally weds Chioma
According to rumors, Davido and Chioma traditionally got hitched in November after the death of their kid.
After the passing of their son, the singer allegedly secretly wed Chioma,
Few family members attended the traditional wedding, which was held in his father's home, and cameras were not permitted.
The blog claimed that Chioma's bridal price had been fully covered.
Remember that following the incident, Davido quickly wed Chioma despite having promised to do so next year.
On November 6th, a formal wedding was staged to comfort Chioma and reassure her of her status with Davido.
For more updates, always visit dailygam.com