Metro
"Expect More Videos" – Festus Keyamo Shares His Thoughts on Buying Property Abroad with Public Funds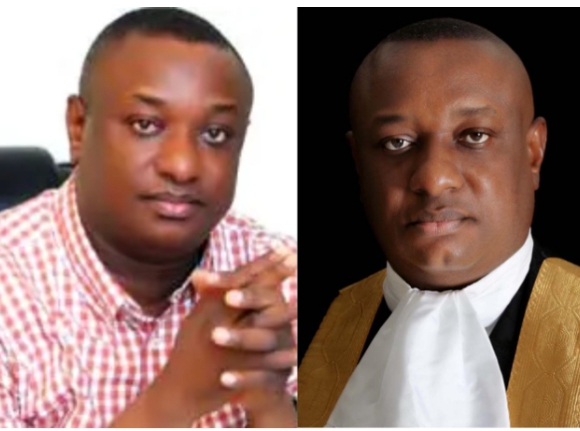 Festus Keyamo, Minister of State for Labour and Employment, has clarified a property he was said to have purchased in the United States of America.
You see the reason why they are all fighting Peter Obi with all their life? Because Obi will stop all of them from stealing govt money, to acquire properties abroad.
They rather continue with the old order, where their looting is assured and guaranteed.

See him in the property. pic.twitter.com/qvXMbLjAb0

— 99% OPPRESSED. (@PIDOMNIGERIA) April 21, 2023
Keyamo stated on Saturday via his verified Twitter handle that he did not purchase the house with stolen funds.
Remember that the Minister has been trending on social media because of the contentious US property.
However, he has confirmed that the property is his, noting that he purchased it with money earned from legal practice.
Keyamo claimed he was only trying to entice the horde of sore losers from the previous elections with a video of his vacation in "one of my properties abroad" while doing a light workout.
In response to the claim, Keyamo admitted that he owns the house and that it is absurd to think that after 30 years of active, high-profile legal practice and thoughtful real estate investments, he cannot afford such a modest property.
The Minister also claimed that he shared a video of himself exercising in front of the property in order to entice bitter losers from the previous elections.
He posted on Twitter;
Two days ago, I decided to bait the horde of sore losers at the last elections with a video of my vacation in ONE OF MY PROPERTIES abroad as I did a light workout. Expectedly, they fell so terribly for the bait. Being folks of low moral standards, they seem to view everyone from…

— Festus Keyamo, SAN (@fkeyamo) April 22, 2023
"Two days ago, I decided to bait the horde of sore losers at the last elections with a video of my vacation in ONE OF MY PROPERTIES abroad as I did a light workout. Expectedly, they fell so terribly for the bait. Being folks of low moral standards, they seem to view everyone from their own depraved universe. Given same position of public trust and authority, I bet they would easily compromise. So, they assume everyone will wallow in the same moral squalor like them.

"For some of us who have built a huge reputation of honour, integrity and accountability and championed the fight against corruption — long before public office- probity and openness remain our guiding principles. By letters dated March 6, 2019 (long before I was appointed a Minister and immediately I was appointed a Board member of the NDIC), and in line with our Constitution, I wrote to the relevant government agencies, informing them of the closure of my foreign account(s) and the repatriation of my funds to the country, being some savings I had made as a private legal practitioner and a property investor over decades.

"The numbers of those accounts, both abroad and in Nigeria were clearly stated in those letters. Those foreign funds were lying in my accounts until my appointment as a Minister later in 2019 and formed part of my assets declaration. In 2021, I again wrote to the relevant agencies (by letters dated January 22, 2021), informing them of the movement of those funds out of the country to purchase a property as a better investment decision, instead of the funds lying idly in the account whilst I am in public office.

"The letters were duly acknowledged. I followed up again with Whatsapp chats same day to the heads of those agencies, informing them of the delivery of those letters and the contents of the letters and they acknowledged receipt. I have the acknowledged copies of those letters and those chats and replies are still on my phone, showing the dates of those chats. So, I had a good laugh when I saw the trending issues regarding just one of my properties in the US. It is even very laughable to think that after active, high-profile practice of law culminating in my privilege as a member of the Inner Bar (together with being an International Arbitrator) and thoughtful investments in real estate spanning over 30 years, I cannot afford such a relatively modest property.

"Understandably, some people seem to underrate us because we live a simple, modest life and we are not given to ostentatious display of wealth and the vanities of life like some people do. Lol. Well, for these haters, I have another bad news for them: let me now disclose that of my entire real estate portfolio (both home and abroad), this is about the CHEAPEST of my several properties. Those who are VERY CLOSE to me over the years know exactly what I am talking about. My flourishing and manned law Chambers (whilst I am away on national assignment) and my real estate investments are still far more financially profitable than serving my country.

"Ours is a labour of love to my country. My Assets Declaration is there for all to see. (Again, this is verifiable.) Some of us don't need Government funds or patronage to get by. Whatever we do and whoever we support is out of our deep convictions. And yes, we have worked our socks off in the last 30 years! Please, expect more videos!"
For further information and update always visit dailygam.com