Global News
Ghana: The 'King Is Coming II' Concert Is Scheduled For October 29th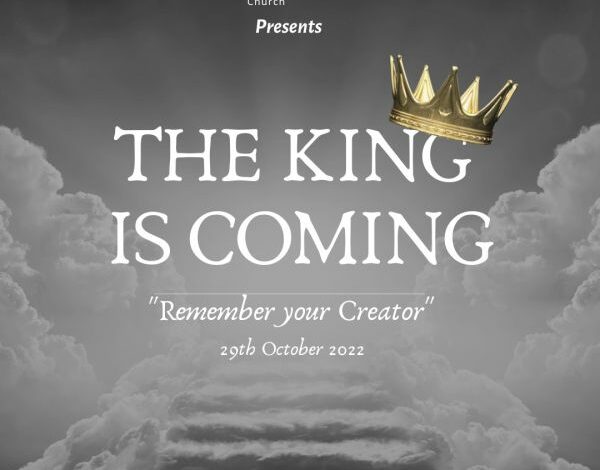 The 2022 edition of the 'The King is Coming' musical concert will take place on Saturday, October 29, 2022, at the Bethel Seventh-Day Adventist Church (OSU) auditorium in Accra.
This year's event is titled "Remember Your Creator" and will include some of the Church's talented music prodigies.
The major goal of the 'The King is Coming' musical concert, according to the organizers, is to "announce the soon return of Christ as stated in Revelation 14:7 and Revelation 22:20 through music."
Heavenly Strings, PESDAC Praise, New Vision Choir, The Manifest, Earl and Evelyn, and a slew of additional surprise acts will perform at this year's edition.
"We picked the topic "Remember your Creator" to stress the fact that God is the creator of all things, including ourselves, and thus deserves our devotion and respect, especially in these last days," stated Elder Frank Aning, Personal Ministries Director of the Bethel-Osu, SDA Church. In keeping with the Pink October campaigns, we will use this chance to raise awareness of breast cancer, thus the program's dress code should include a touch of pink.
In keeping with the pink October initiatives, the King is Coming Concert will also be used to educate attendees about breast cancer. In this way, the event's dress code will be a hint of pink.
The musical performance will also be live streamed on social media (Facebook, Zoom, and YouTube @bethelsdaosu).
It starts at 5 p.m. and is completely free, so you can't afford to miss it.
About the King Is Coming Concert
As Christians, particularly Seventh-day Adventist Christians, we believe in our Lord Jesus' second return. It is important to remember that we are not in normal times, and that everything around us points to this tremendous event. The "King is Coming" musical concert is a non-profit event to remind the world of Christ's imminent return. The celebration also serves to express the church's gratitude to God for how far he has led the church and for his goodness to its people. The King Is Coming performance will be a soul-searching, heart-warming, uplifting, and spirit-lifting experience.
Photo Speaks;

For further information and updates always visit dailygam.com