Metro
Groom storms out of engagement ceremony as bride's family make more demands (Video)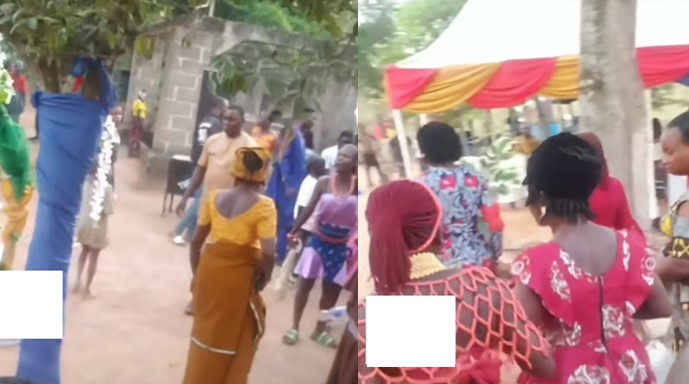 Following requests from the prospective groom's future wife's family, a Nigerian couple's engagement ceremony took an unexpected tragic turn.
Despite giving the things on the bride's price list, the groom reportedly abandoned the marriage ceremony and stormed out of the location because he thought they were trying to extort him.
A journalist who attended to cover the occasion said how the bride's family complained that the seasoning cubes and malt beverages served were insufficient and requested more in a video that was later shared online.
This reportedly infuriated the groom, who left the party and his family members slowly followed.
When this occurred, attendees at the engagement ceremony were confused as some could be seen pacing back and forth.
See reactions below;
ponkboi; Dis guy was part of d village people's meeting last night ,na him Dem send to come monitor d confusion if e go well… 🤐🤐🤐
its_ozioma; Forces of darkness can use anything to scatter good things! They shd ve calmed down n give them everything or plead to bring it later! Now d lady will live with this trauma
i_goddessivy; This guy is enjoying the scene a bit too much 😂😂😂
okiesovwiz; Oga buy the magi and malt oo. Those village people for vex enter your marriage ooo. Don't play abeg
honourable_chief; Him no see copy of list before he reach there? Abi he dey expect year end sales discount on top wife matter? Because I am confused.
reimestores; Is it due to extortion or the maggi matter…. make we understand ooo
ilove_cosmos; Everywhere tooo hard for d country
michcoresources; @maggi_nigeria come and solve the problem oh things hard.
For more updates, always visit dailygam.com