Metro
Is there something wrong with me? –Ooni of Ife addresses his six queens.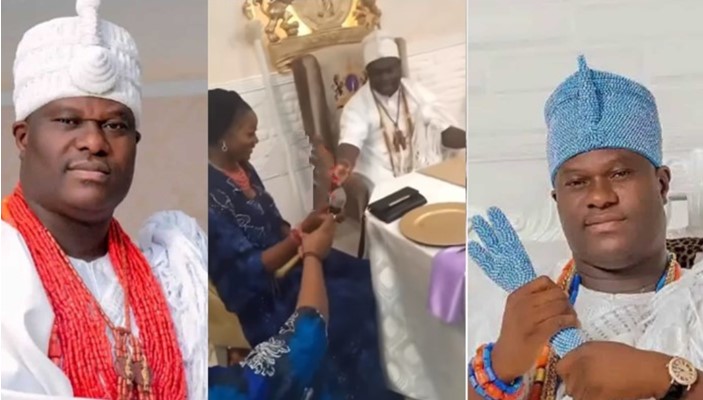 Oba Adeyeye Ogunwusi, the Ooni of Ife, has been caught on camera enjoying family time with his new wives at his palace in Ile-Ife, Osun state.
While his six wives were eating, he was jokingly questioning them about his character.
On October 24, 2022, the monarch married Temitope Adesegun as his sixth wife and asked all of them if he is not a decent man.
Oba Ogunwusi, who addressed them as his queens, went on to ask if he is also a good and reserved man, to which they replied positively.
"Queens! Queens! Am I not decent? Am I not reserved? Am I not good?", Ooni asked.

The wives responded; "Kabiyesi!! You are decent, you are reserved, you are good."
Meanwhile, the traditional ruler was previously reported to have planned his royal wedding to the seventh wife for October 29th, but it has yet to take place.
Remember how, on the monarch's 48th birthday and seventh coronation anniversary, he explained why he had married six wives in two months?
He stated that the institution is larger than him and rich in heritage, culture, and tradition.
According to the Ooni, taking multiple wives is a traditional Ile practice that he attempted to change but was unable to do so.
"This institution is bigger than me, beyond me. People in this palace are more than 800, they are close to a thousand. There are some people who have been living in this palace for more than 60 years, while some have lived here for more than 80 years old. Some people are over 100 years old in this palace.

"If I had my way, I tried to challenge it but it blew in my face but thank God I'm still alive. It's an institution that is rich in heritage, culture, and tradition," he said.
For more information always visit dailygam.com