Entertainment
Mr. Ibu's wife calls him out for using domestic violence and makes suggestions that the actor and her daughter Jasmine are dating.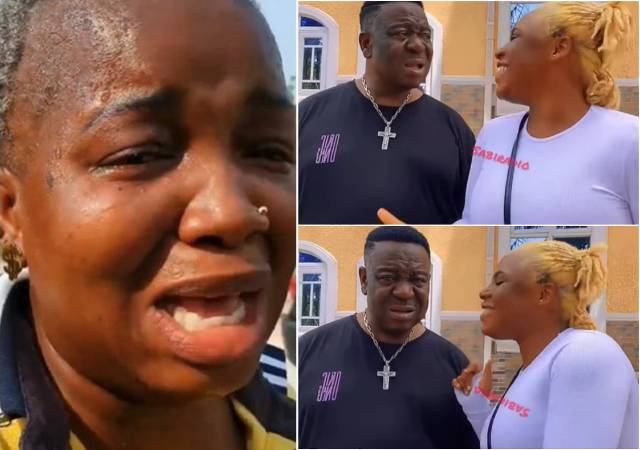 In addition to criticizing the seasoned actor for domestic abuse, Mr. Ibu's wife, Stella Maris, made a suggestion that he was dating his well-known daughter, Chioma Jasmine Okafor.
In one of the videos posted by GISTLOVER, John Okafor (Mr. Ibu) can be seen yelling angrily at his wife Stella Maris and threatening to lash out at her if she doesn't tell him about her conflict with Chioma Jasmine.
Another video shows Stella Maris sobbing as she describes the abuse the actor has inflicted on her and her children while claiming that Mr. Ibu came to her house from the home of his girlfriend to beat her up.
It was claimed that Jasmine was passing herself off as his daughter while having sex with Ibu as the film was being shared.
The caption read:
"Hello tueh tueh , Otife get started, you see the level some girls go just to get fame ehn, he go shock you ooo, you dey knack person dey call am your papa, Jasmine come here , heaven and earth will be against you from this very moment, I say it's about to get started , Mr Ibu has loss of memory and a girl who is not related to him at all took advantage of that ,took his Instagram password and using Mr Ibu for content and to get fame, infact she add her page for mr Ibu bio, they are not related at all, infact she is at the verge of selling Mr Ibu house today before this matter come out, it's about to be a long night,full story soon , get your popcorn, ogun go soon Kee person now , Moun nbo 🚶🚶🚶🚶🚶"
For more updates, always visit dailygam.com