Metro
Nigeria: #ENDSARS: Caroline Danjuma, one of the organizers, aspires to be president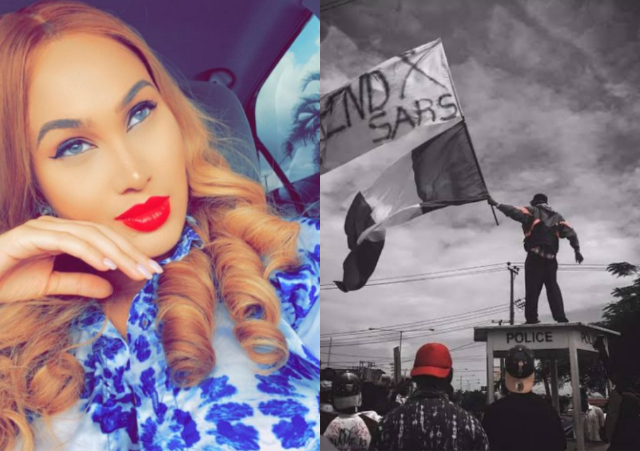 Nollywood actress Caroline Danjuma has joined thousands of people around the world to commemorate End SARS two years ago.
Recall that in October 2020, youngsters demonstrated against police violence in the streets. Prior to the Lekki Massacre at the Lekki tollgate, this demonstration persisted for about three weeks.
The Lekki toll gate in Lagos served as the focal point of the weeks-long demonstration, when hundreds of young people gathered to voice their complaints.
On October 20, 2020, some military arrived to disperse the kids, and many people now contend that a massacre occurred that evening.
In the meantime, many people have paid their respects to the deceased on social media.
Caroline joined them and brought up how one of the perpetrators of the atrocity is running for president.
The actress is undoubtedly criticizing Tinubu, who is said to be responsible for the deaths of young demonstrators.
"May the souls of the departed Rest In Peace… 20th of Oct.

One of the ring leaders to this Massacre wants to become president".
MC Oluomo, the head of the management committee for the Lagos State Parks and Garages, had demanded the bodies of those purportedly killed during the #EndSARS demonstration.
He said that Asiwaju Bola Tinubu, the APC's presidential candidate, was not to responsible for what happened at the toll gate because he was not in a position of authority at the time.
He asserted that the propaganda against Asiwaju was the work of Tinubu's rivals Atiku Abubakar and Peter Obi.
This was said by MC Olumo on Sunday, October 9th, during the five million man match for Tinubu in Lagos.
He said, "Where are the bodies and where are they buried? Do they have relatives in Nigeria? Has Nigeria bribed the mothers of the deceased protesters? Why are their siblings not searching for them, even on social media? Or is Asiwaju Bola Ahmed Tinubu a Chief of Army Staff or President who will order the killing of protesters at the (Lekki) Tollgate?"

"They're lying to us, they want to undermine the Yorubas, everyone should come out. It is a political game. It was Atiku and Obi that conspired to do all those things then."
For further information and updates always visit dailygam.com
See post below