Metro
Osinbajo: "National unity is the foremost challenge facing Nigeria."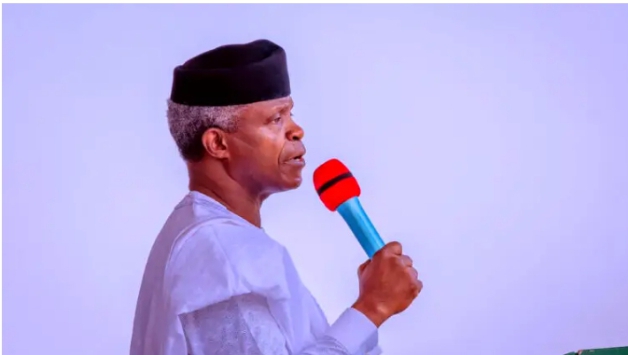 The largest issue the country is currently experiencing, according to vice president Yemi Osinbajo, is maintaining National Unity.
At a one-day National Unity Conference in Abuja that was sponsored by the National Institute for Policy and Strategic Studies Alumni Association (AANI), Osinbajo made this statement.
The conference's focus is on "Nigeria's National Unity in the Run-up to the 2023 General Elections."
The Vice President, in the person of the Minister of Information and Culture, Alhaji Lai Mohammed, praised the alumni for consistently stepping in to help when the country was in need.
He stated, "I want to take this opportunity to thank the National Institute for Policy and Strategic Studies (NIPSS) graduates for consistently coming in to help when the country is experiencing hardships.
"And they are always correct. There is no denying that nowadays, maintaining national unity is the biggest problem the nation faces.
"If one listens to the clamor of voices coming from the East, West, North, and South, whether they are discussing difficulties, disorders, Boko Haram insurgents, or bandits.
Therefore, it is appropriate to gather us here to debate this extremely important topic, particularly in light of the 2023 elections.
In his keynote address, Gen. Martin Agwai, the former chief of the armed forces of Nigeria, claimed that the country's unity had become overly centralized and resembled a unitary rather than a federal system.
He continued by saying that Nigerians needed to make deliberate efforts to install responsive leadership and demand that insecurity be combatted using all legal methods under a democracy.
"We should start looking for a procedure for choosing our leader. We should choose leaders who we can hold accountable in the future.
"And must we exercise democracy in the current manner? Let's examine how we may establish a democratic system that is open to all and how we can choose leaders with whom we feel comfortable.
"A nation must transform and lessen the dangers to its national security if it is to have stability and progress," he stated.
Rauf Aregbesola, the interior minister, acknowledged that "there is a gap in our evaluation of the country's status.
"Due to the unequal distribution of our resources, it is believed that Nigeria is highly wealthy.
I see the necessity for leaders to guide the development of potentials, but we as citizens must push ourselves to meet the demands of the situation.
In his speech, Borno Governor Babagana Zulum asked Nigerians to keep politics and government separate.
"We will continue to have problems in this country as long as we don't separate politics from government," continued Zulum, who was represented by Dr. Bulama Gubio.
"Considering that around 70% of the population of Nigeria is under the age of 30, elders should play positive roles in its affairs.
"We must work to maintain this nation's unity," someone said.
He asked Muslim and Christian leaders to promote preach peace and eschew violence.
In an interview with newsmen, one of the panelists, Prof. Patrick Utomi, the founder of the Centre for Values in Leadership, argued that politicians needed to have a clear plan on how to improve people's lives.
"Politicians undermine the nation when they divide the populace in an effort to gain power and lack sufficient consciousness.
"For this reason, politicians must learn to concentrate on issues, have a clear plan for improving people's lives, and understand how to be held accountable for it.
"Elections ought to be about that. These are the so-called moral tribes. We are capable of generating these negative emotional pressures.
It's a worldwide phenomenon, not just a Nigerian issue, and I didn't even come up with the idea of moral tribes.
Therefore, he stated, "we have to acknowledge that emotions can cause harm and we want to focus on reasonable public debate."
For more information always visit dailygam.com