Metro
The chairman of the NDLEA has slammed Burna Boy and Adekunle Gold for propagating drug usage through their songs.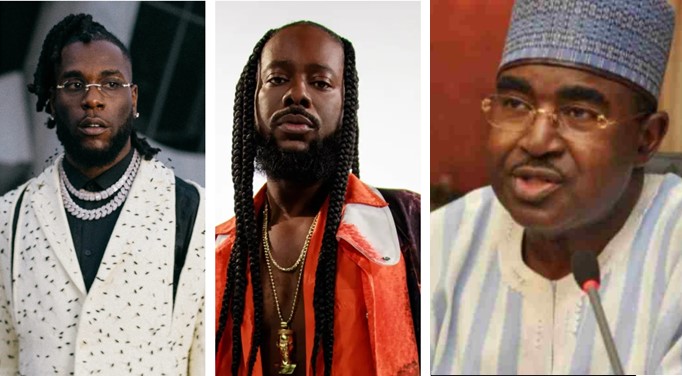 Brig. Gen. Buba Marwa (Retd), Chairman of the National Drug Law Enforcement Agency (NDLEA), has lambasted Nigerian musicians Adekunle Gold, Burna Boy, and others for promoting drug use in their songs.
He condemned the use of drug-promoting lyrics in songs, calling them a "buzzword" among teenagers.
Marwa addressed through Dr. Segun Oke at the 2nd Vanguard Mental Health Summit, which was held in Lagos on Thursday with the topic 'Mental Health in a Distressed Economy.'
According to the NDLEA president, these songs have influenced Nigeria's young people to view drug misuse as a "great idea of leisure."
He also called drug abuse in Nigeria a "serious" problem, revealing that 10.6 million Nigerians use cannabis.
He said "The "high syndrome" is so entrenched among young people it has become a sort of self-prescription therapy for dealing with some of life's issues. For some, it is the grand idea of leisure. It is a buzzword in their everyday life and a motif in popular music. Offhand, I can give you three quick examples of hit songs that glorify the abuse of psychoactive substances in the name of "getting high".

" 'I just want to be high', 'I need Igbo and Shayo', 'Sometimes food no dey give man joy, but Canadian loud, the feeling is different.' These street anthems motivate young people to abuse alcohol, cannabis and other illicit substances. It is now commonplace for young people to organise cannabis parties".
For more information always visit dailygam.com