Metro
A young Nigerian lady bags Bachelor's degree in Economics with a 4.87 CGPA wins best graduating student award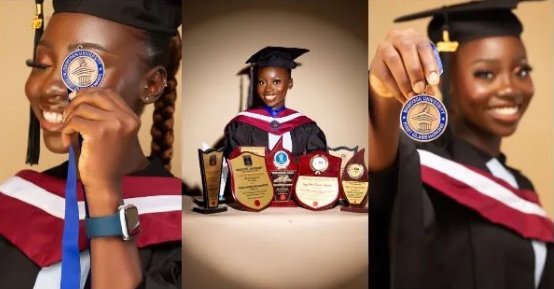 Moyinoluwa Ikotun, a young Nigerian lady, has achieved success after earning a Bachelor's degree in Economics with an outstanding 4.87 GPA out of a possible 5 points.
Moyinoluwa Ikotun was named the best graduating student in her class at Babcock University in South-West Nigeria. On LinkedIn, she celebrated her achievement by stating that she remained at the top of her class throughout her academic career.
"Upon graduation, I was intimidated by my accomplishment, but I'm here to celebrate my success. Started this journey as an above average student who made a last-minute, unforeseen change in career plans," she said.

"I maintained being the top of my class for 4 years and graduated with a 4.87 CGPA. Whilst in school, I took on the Accounting Technician Scheme West Africa Exam and I became a certified Associate Accounting Technician," she added.
The young scholar went on to say that she not only excelled academically, but she also served in various capacities to benefit her community while in school.
"I engaged in a variety of activities during my four years at university that complemented my studies. I served as the course representative of my class, Babcock Finance Society president, and graduating class' financial secretary," she explained.
For more information always visit dailygam.com