Metro
Nigeria: Ifeanyi must marry me right away – A lady was caught on camera spiritually tying a man with a love charm.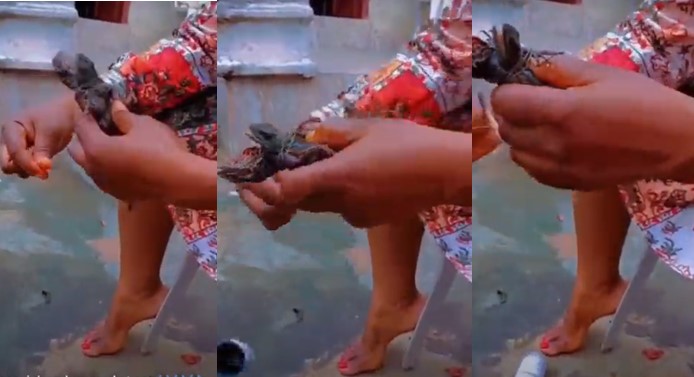 Many people have been taken aback by a Nigerian lady's willingness to go to any length to find a man to marry her.
She was caught on camera tying a love charm to the guy known as Ifeanyi so that he would only look at her.
A spiritualist directed the woman, who used a thread to tie two lizards together while commanding Ifeanyi to love her.
She stated that no matter what any man or woman says or requests from him, he will not listen to them and will only attend to her request.
The lady speaking Igbo kept repeating the words the spiritualist told her to say.
She stated that no man or woman will come between them, and that he will only love her. She insisted that he marry her right away and love her unconditionally.
Twitter user, @AfamDeluxo shared the video with the caption; "Dear men & women,
Please, be careful because December is around the corner, & people are going to places to spiritually manipulate their crush, ex, etc into marrying them. I heard there is a popular tree in Ayamelu where they tie people spiritually."
Watch the video below:
Dear men & women,

Please, be careful because December is around the corner, & people are going to places to spiritually manipulate their crush, ex, etc into marrying them.

I heard there is a popular tree in Ayamelu where they tie people spiritually. pic.twitter.com/gdFiDCezfM

— Aji Bussu Onye Mpiawa azụ 🇨🇮 (@AfamDeluxo) October 23, 2022
For further information and updates always visit dailygam.com